The transition from summer to fall can be bittersweet, but I found a new reason to welcome it when I started birding. Birds migrate south to their wintering ranges starting as early as July, and fall offers lots of opportunities to see and hear them passing through.
As Clarkson University biologist Tom Langen explains, migrating birds follow ancient pathways, but the tools scientists use to study them are constantly improving. Satellite telemetry, passive acoustic recording and other technologies are providing new insights into when, where and how birds migrate – knowledge that can make conservation strategies more effective.
Also today: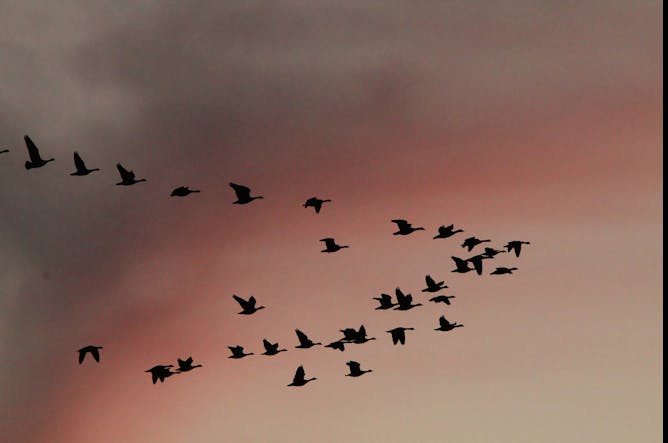 Satellite telemetry, tiny geolocation tags and passive acoustic recording are providing new insights into bird migration and vital data for conservation.
Education
Politics + Society
Many Americans think they know much more about politics than they really do. That overconfidence can thwart democratic politics.

Despite having superior military forces, Russian President Vladimir Putin has found Ukrainian resistance much tougher than expected. A military expert looks at the future of the war.
Economy + Business
Science + Technology
Arts + Culture
Locals usually see tourists as a way to boost the economy. But at a certain point, resentment starts to build.

Movies carrying the NC-17 rating have traditionally been difficult to screen and promote, as they were locked out of some movie theater chains and traditional advertising.
From our international editions