Mapping out the billions of building blocks that make up our genetic code is no small feat. When the Human Genome Project first embarked on this project, technological limitations left researchers with large gaps in the final genetic sequence. By the end of the project in 2003, only 92% of the genome was actually complete – excluding stretches of repetitive DNA segments of unclear function.
Scientists published that remaining 8% yesterday. And now, they can put that genetic "dark matter" under the microscope.
Gabrielle Hartley of the University of Connecticut was part of the team of scientists that helped uncover these repetitive sequences. She explains how these missing pieces fit into the genomic puzzle of the human body, and how the repetitive regions that make up so much of our genetic code shape health, evolution and which genes are turned on or off. The work, she writes, could yield not only a better understanding of the fundamentals of biology but also insights into genetic diseases.
Also today: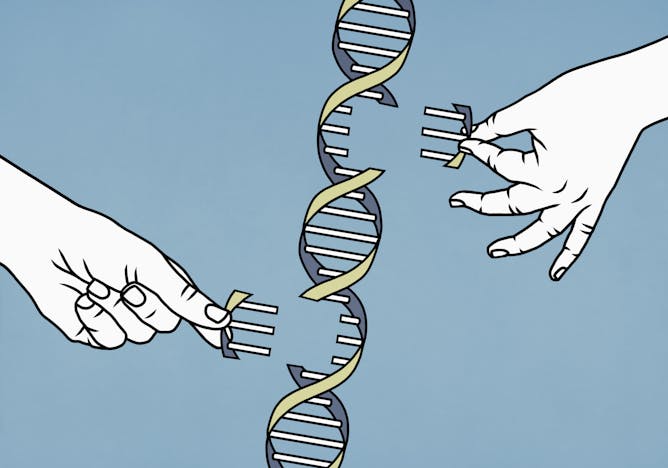 Advances in technology have enabled researchers to sequence the large regions of repetitive DNA that eluded the Human Genome Project.
Politics + Society
There are a few warning signs that genocide is happening. In the Russian war on Ukraine, all of those are present.

A career soldier and a careful scholar of the military profession, William Tecumseh Sherman knew that wars are part of human nature, and are unavoidably cruel and harsh.
Education
Economy + Business
Health + Medicine
This illustrated health manual dating back to the 13th century provides a glimpse of daily life in aristocratic households during the Middle Ages.

Being both trans and a person of color comes with a unique set of challenges. Collectively working toward overcoming these barriers is one way this community fights for survival.

The constantly changing COVID-19 rules can be frustrating. But this pandemic is like no other public health crisis in history. It is better to think of the virus and US responses the way we think about hurricanes.
Ethics + Religion
The Supreme Court will hear oral arguments in Kennedy v. Bremerton School District, a case stemming from a football coach's prayers on the field, on April 25, 2022.

Muslims observe a month-long fast for the holy month of Ramadan. A scholar explains the religious observance and its spiritual significance.
Podcast 🎙️
From our international editions