My kids call me Debbie Downer for a reason. As a medical editor, I always worry about unexpected problems. An issue that's really been bothering me lately is the rise in COVID-19 cases in the U.S. from several variants. Virologist and vaccinologist Paulo Verardi of the University of Connecticut explains why we're in a tight race with the cagey coronavirus as we aim for herd immunity – and the virus aims to stop us.
Also today:
One additional note: Later today you'll receive a sample of a new newsletter called "This Week in Religion," which compiles the latest news, analysis and explanatory journalism on religion from The Conversation U.S., The Associated Press and the Religion News Service. If you are interested in the impact of faith on politics, culture and society, you can subscribe to begin to receive the newsletter every Thursday at noon. We hope you like it!
Lynne Anderson

Senior Health + Medicine Editor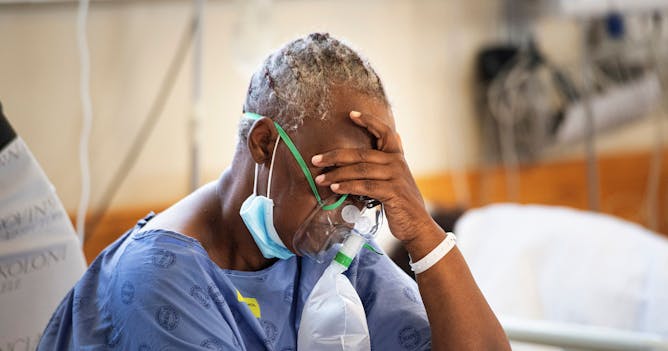 As the US vaccinates millions more people each day, the novel coronavirus works to survive. It does this by mutating. So far, several variants are worrisome. A virologist explains what they are.
Ethics + Religion
Kumbh Mela, a Hindu pilgrimage that started earlier this month in India, has survived wars and famine since its origin. But the biggest threat has been the spread of illness – back then as now.

Trump saw a decline in support among atheists, agnostics and voters not affiliated with any religion in the 2020 election.
Education
Economy + Business
Politics + Society
Men accused of sexual harassment, including New York Gov. Andrew Cuomo, often refer to their accomplishments in their responses. Their power is their defense, and it blinds them to their victims' suffering.

White people are the main perpetrators of anti-Asian racism and violence, but white supremacy is still the problem when Blacks and Latinos attack Asians.
Arts + Culture
Trending on Site
Some do so of their own accord, using airport amenities to meet their basic needs. Others, however, would rather be anywhere else – and find themselves at the mercy of bureaucratic wrangling.

As sea levels rise along the Atlantic coast, saltwater is intruding inland, killing trees and turning coastal forests into marshes. Should scientists try to slow the process, or work with it?

The fight over absentee ballot deadlines in the November 2020 election was bitter and prolonged. Now, an election law scholar looks at how those ballots affected the presidential race.