With new variants of coronavirus spreading, taking simple steps to slow its spread is crucial. That makes the new Centers of Disease Control guidelines for wearing masks important.
Of course, your mask must be made of the right material, writes Scott Schiffres, a professor of mechanical engineering at Binghamton University. But he and the CDC agree that how well a mask fits matters just as much. Here's how to make sure your mask isn't leaking air in or out.
Also today: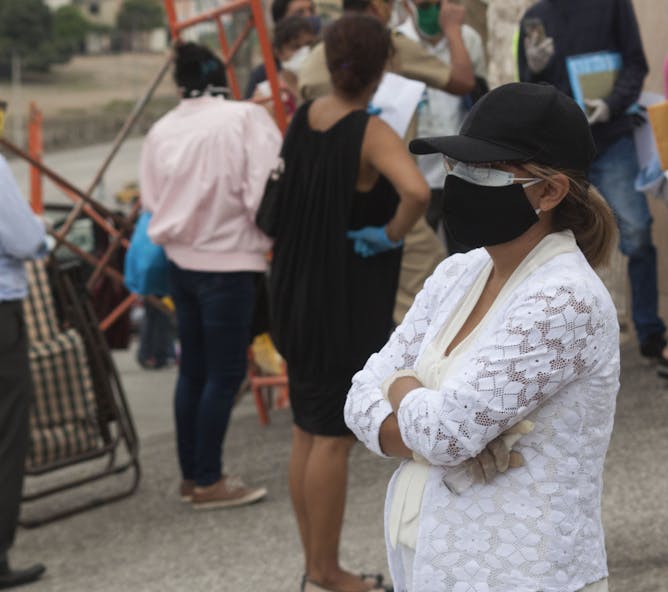 How well your mask works depends on how well it fits. Wearing two snug masks made of different materials offers 95% protection from exposure to aerosols that could contain the coronavirus.
Politics + Society
Politicians say they want it, but how often, and under what circumstances, does bipartisanship really happen?
Health
What is Valentine's Day without a romantic dinner out? It could be a COVID-19 catastrophe. Better to stay home and order in, writes an epidemiologist.

One university is showing how the vaccine corps concept can speed up vaccination rates, including launching a large-scale vaccination site staffed by hundreds of students and volunteers.

The president is calling for sweeping changes in health care policy. Tens of millions of Americans could be affected.
Arts + Culture
For single people, finding at least one partner has been hard enough. But for those used to juggling multiple relationships, the pandemic has forced them to rethink dating altogether.
Science + Technology
Researchers have found a way to speed up the search for dark matter using technology from quantum computing. By squeezing quantum noise, detectors can now look for axions twice as fast.

Chinese American physicist Wu worked on the Manhattan Project and performed groundbreaking experiments throughout her long career.
Trending on Site
This isn't the first time America's schoolchildren have studied remotely – and Chicago's 1937 'radio school' experiment shows how technology can fill the gap during a crisis.

Psycholinguistic researchers analyzed more than 1 million Reddit posts a year before and a year after users posted about their breakup.

A new study found that while becoming a father gave men more leadership opportunities, becoming a mother diminished them for women.