Many of America's schools are so old and dilapidated that they may not be able to withstand the rising heat that results from climate change.
That's according to a new study from Paul Chinowsky, a professor of environmental design at the University of Colorado Boulder, who found that nearly a third of U.S. schools will need new or upgraded air conditioning in the coming years. Without these measures, he writes, American students may soon be forced to go to school in classrooms where it's simply too hot to concentrate or learn.
Also today:
Jamaal Abdul-Alim

Education Editor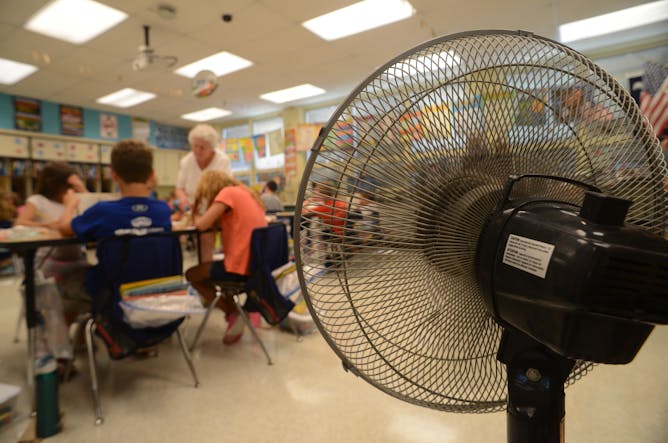 America's public schools, which are over 40 years old on average, are not equipped to handle rising temperatures due to climate change, a new study reveals.
Health
Havana syndrome has spread to government officials around the world and stumped doctors for years. Despite news of mysterious attacks, evidence suggests mass psychogenic illness may be the true cause.
Science + Technology
On Oct. 1, 1971, Godfrey Hounsfield's invention took its first pictures of a human brain, using X-rays and an ingenious algorithm to identify a woman's tumor from outside of her skull.

Many features of proteins are analogous to music. Mapping these features together creates new musical compositions that help researchers learn about proteins.

People with HIV need to take daily medication to keep the virus at bay. A study has found that a new treatment combination could boost immunity and control virus levels even after stopping medication.
Education
Economy + Business
Long-term increases like this are unusual. So is the fact that this increased governmental generosity began with a measure approved by Congress when Republicans held majorities in both chambers.

Congress is working on a spending bill to avert another government shutdown. Scholars explain what's in store if they fail.
Environment + Energy
Trending on Site
The US has learned that it cannot suppress its way to a healthy relationship with fire in the West. That strategy failed, even before climate change proved it to be no strategy at all.

When Beethoven died, all he left behind were some sketches for his 10th Symphony. Now, thanks to the help of artificial intelligence, the composer's vision is coming to life.

Before the container was standardized, loading and unloading goods was very labor-intensive, inefficient and costly.