Shortly after the Supreme Court delivered its abortion ruling in June, I began noticing a stream of photos of people who looked like they were in their teens or 20s crying outside the Supreme Court – some out of joy, some out of devastation. Their positioning front and center isn't random.
The Dobbs ruling may motivate more young voters – on both sides of the issue – to turn out in the upcoming midterms, explains Abby Kiesa, the deputy director of CIRCLE, a research organization at Tufts University that focuses on youth civic engagement. If they do, their vote could play a pivotal role in this year's elections, she writes. Over two-thirds of people ages 18 to 30 disapprove of the court's ruling, far higher than any other age group, Kiesa notes.
Also today: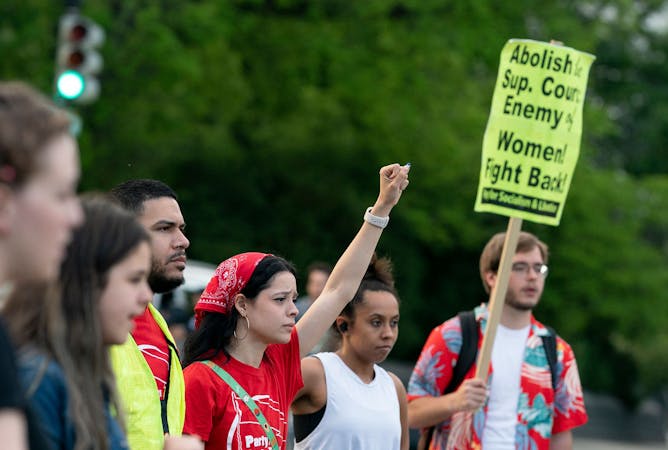 As many as 80% of young people want abortion to be legal, and most disagree with the Supreme Court's recent Dobbs v. Jackson ruling. This could lead to high youth voting rates in the 2022 midterms.
Politics + Society
Science + Technology
Ethics + Religion
Health + Medicine
The monkeypox virus, which is commonly found in West and Central Africa, is now causing many infections in the U.S., Europe and Latin America.
Economy + Business
Soaring inflation in the US has been driven in part by large increases in the price of groceries – a burden that falls disproportionately on lower-income families.

Learning lessons from the past could help reduce the impact of future industrialization.
From our international editions