There was a lot of election news last month, so you might not have noticed that Oregon voted on Nov. 3 to decriminalize all drugs. Heroin, meth, cocaine, MDMA and other narcotics are still against the law, as is selling them. But possession of small amounts of drugs will now be a civil rather than criminal offense, punished with a fine or court-mandated drug treatment – not jail time.
"Oregon's move is radical for the United States, but several European countries have decriminalized drugs to some extent," write drug policy experts Scott Atkins and Clayton Mosher. They look at evidence from Portugal, Switzerland and U.S. states that legalized marijuana to explain why Oregonians are abandoning one front in America's expensive, racially disparate and ineffective war on drugs.
Also today:
Catesby Holmes

International Editor and Politics Editor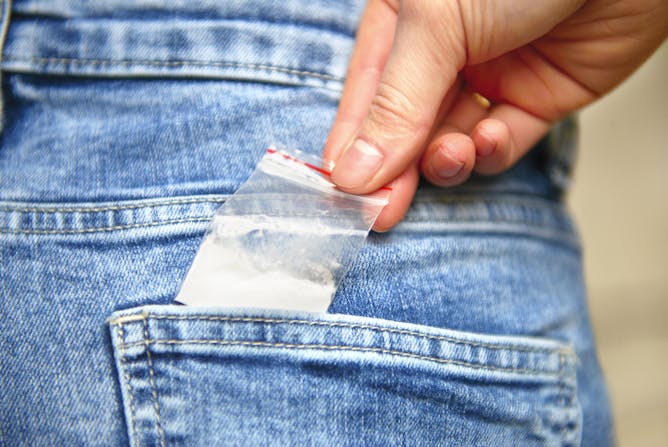 Possessing heroin, cocaine, meth and other drugs for personal use is no longer a criminal offense in Oregon. The idea is to get people with problem drug use help, not punishment.
Environment + Energy
Economy + Business
Congress and the White House are trying to wrap up negotiations on a nearly $1 trillion coronavirus bailout, but Senate Republican demands for a liability shield has been a key obstacle.

People worried about gaining weight over the holidays may try to estimate how many calories are in the foods they put on their plates. But it's not as easy as it looks.
Arts + Culture
One scholar spent a decade studying the ways everyday people drew, carved, glued, sewed and baked their own pornography.
Ethics + Religion
Science + Technology
'Worm' is really a catchall term for a huge variety of animals with different characteristics that span the tree of life. They hold clues about our own origins as well as hints about human health.

A trace fossil of an iguana burrow was discovered on San Salvador Island in the Bahamas. Estimated to be 115,000 years old, it is the first known fossil of its kind.
Health
Millions of Latinos may not get the influenza shot this year, which could be an indicator of whether they will get a COVID-19 shot. A rural clinic shows how building trust can help overcome reluctance.
Trending on site
Here's how governments can get more people to follow COVID-19 guidelines.

There are two new COVID-19 vaccines that appear to be more than 90% effective. But what are these vaccines, and how are they different from those used previously?

Scientists are not convinced by the current evidence of UFOs. That doesn't mean that they don't exist. But have Americans' belief in UFOs gone from science to a new religion?