We sent today's newsletter earlier without featuring our lead article, so we are sending it again. We apologize for the mistake.
There's been little respite for California in this record-setting wildfires season, with more hot weather forecast this week. State agencies, scientists and conservation groups increasingly agree that California needs to vastly scale up forest restoration efforts – thinning trees and clearing decades of accumulated brush that fuels huge blazes.
But as University of California Merced engineers Roger Bales and Martha Conklin explain, that won't be easy or cheap. These projects can cost up to $4,000 per acre, and California needs to treat as much as 10 million acres. Bales and Conklin see local partnerships and innovative financing as the best hopes for taking on this mammoth job.
Also today:
Jennifer Weeks

Environment + Energy Editor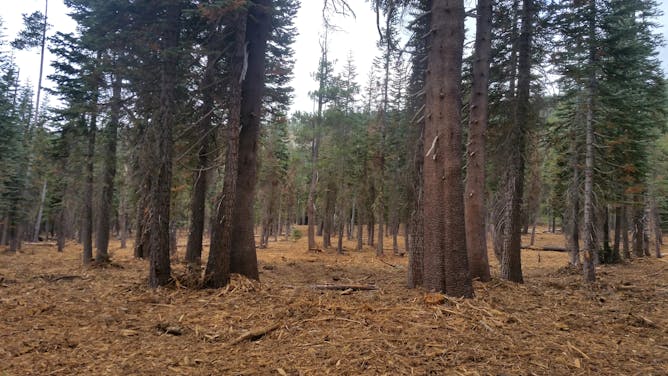 Restoring western forests – thinning out small trees and dead wood – is an important strategy for reducing the risk of massive wildfires. But these projects aren't fast, easy or cheap.
Health
Economy + Business
Some economists have begun to compare the current recession and recovery with a 'K,' while others see a 'V.' Which is it, and what does it mean?
Ethics + Religion
Education
To secure a better future, small liberal arts colleges must focus on providing more opportunities for upward mobility, authors of a new book about the pandemic's effect on the colleges say.

A new hands-on learning program helps families with young children build their engineering skills.
Arts + Culture
The U.S. was an outlier in the 20th century. It's been typical throughout human history, and even today, it's common practice in most of the world.
Science + Technology
From our international editions
Armenia and Azerbaijan are fighting over the contested territory of Nagorno-Karabakh. But what do the people who live there want?

Epidemiologists reviewed 25 studies of cloth face masks. Here's what they found out about how well they work, why they work, who they protect and why the mosquito and chain-link fence analogy is wrong.

For their work on auctions and 'the winner's curse', Stanford neigbhours Paul Milgrom and Robert Wilson have won the 2020 Nobel Prize for economics.