A reckoning is underway regarding the tens of thousands of Americans who have died from overdoses, and the lives destroyed from addiction to prescription opioids. Many companies that profited greatly from the excessive sales of painkillers are now reaching settlements that will force drugmakers, distributors and other firms to pay billions to governments and survivors.
One of those companies belongs to two branches of a single family: the Sacklers. Until recently, they were better known for their support for the arts and higher education than their connection to the opioid crisis through their ownership of Purdue Pharma, the maker of OxyContin. As much of this litigation wraps up, it's tempting to blame them for the entire opioid crisis. Although they did play a pivotal role, David Herzberg, a University at Buffalo historian who researches addictive prescription drugs, argues that Purdue's misbehavior points to broader problems in the pharmaceutical industry. Until those problems are fixed, he warns, "the unhappy history of addictive prescription drugs will keep repeating itself."
Also today:
Emily Schwartz Greco

Philanthropy + Nonprofits Editor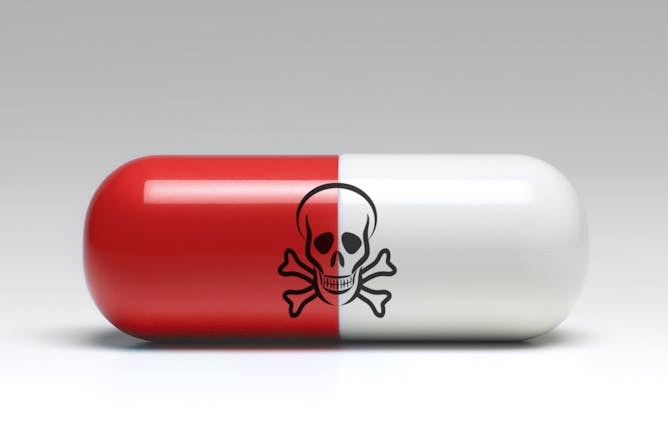 Making them pay is important but it's not going to stop drugmakers from endangering public health.
Health + Medicine
Face masks are still an effective way to help stop the spread of the BA.5 subvariant.

Psychology researchers know what kinds of behavior enhance feelings of social connection.
Environment + Energy
Economy + Business
Politics + Society
Ethics + Religion
Antisemitism today does not always appear in the form of traditional hate speech. It manifests in GIFs, memes, vlogs, comments and reactions on social media platforms.

A scholar of the ancient Near East explains how loan forgiveness was handled thousands of years ago in the Bible and royal decrees.
Science + Technology
Build a powerful enough laser, and you can shine it into space. Aim it well, and you can blind satellites.
Education
From our international editions