Seasonal influenza and other diseases cause more illness and death in older people than they do in younger ones. But there was a surprising jump of almost 20% in the number of deaths from dementia over the summer, which caught many doctors off guard. Gerontology professor Laurie Archbald-Pannone of the University of Virginia was not one of them, however. She explains the factors, including social isolation and overwhelmed caregivers, that have likely contributed to the sad rise in deaths from dementia during the pandemic.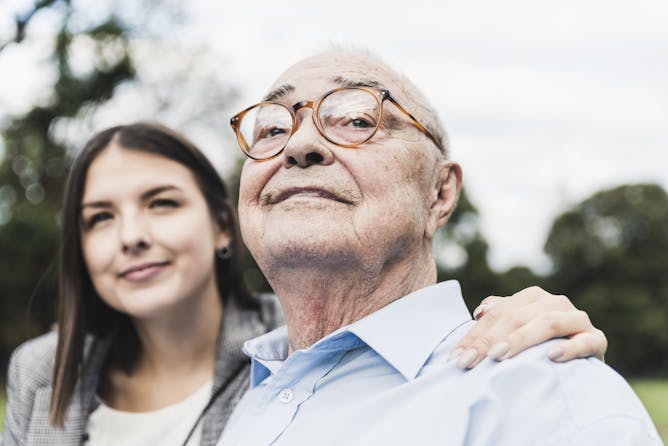 New statistics show that people with dementia have been particularly vulnerable during the pandemic.
Science + Technology
As ready as you are to be done with COVID-19, it's not going anywhere soon. A historian of disease describes how once a pathogen emerges, it's usually here to stay.
Arts + Culture
Some have equated the German word with small-minded cruelty. But the word's meaning is more nuanced.

In the age of masks, improve your interactions by using all aspects of human communication.
Education
Researchers tracked over 1,600 community college students over five years to learn what helped them get into a four-year college once they completed their two-year degrees.

Racial, ethnic and class inequities regarding gifted and talented services are found in most school districts.
Politics/Election '20
Presidential pollsters in the US have had some embarrassing failures. Here's a catalog of those miscalls, from the scholar who literally wrote the book on them.

With several senators testing positive for the coronavirus, and many older than 65, political scientists look at 1954, when senators' deaths changed control of the chamber.

The seemingly different debate styles of President Trump and Vice President Pence are examples of the same thing, what a political communication scholar calls 'authoritarian white masculinity.'
Trending on site
The Christian right began to coalesce around social and cultural changes in the late 1970s. A scholar explains the emergence of conspiracy theories at the time.

Experiments in college classrooms show how tiny respiratory droplets known as aerosols can spread, even with good ventilation. The risk isn't the same in every seat.

Patients suffering from severe COVID-19 may be experiencing a rogue antibody response similar to that seen in autoimmune diseases. The findings offer new approaches for COVID-19 therapy.