Recent media reports over Haitian migrants crossing the border from Mexico to Texas have debated whether Border Patrol agents were carrying whips or not. Indeed, we chose the wording "whip-like cords" in our article to reflect the ambiguity. This may be missing the point: From the vantage point of the migrants, half-submerged in water and looking up at uniformed men on horses, the thing being swung must surely have looked like a whip.
Moreover, the debate is a distraction from wider concern about what went down last week at the border. Karen Musalo, a refugee law expert at the University of California, Hastings, describes how the United States' treatment of the migrants circumvents its international obligations. "It is entirely legal to approach U.S. borders and request asylum," she writes.
By relying on a Trump-era order to deport thousands, the Biden administration has replaced existing immigration law with a discriminatory public health order and eliminated due process protections that are integral to U.S. laws, she explains.
Also today:
Matt Williams

Breaking News Editor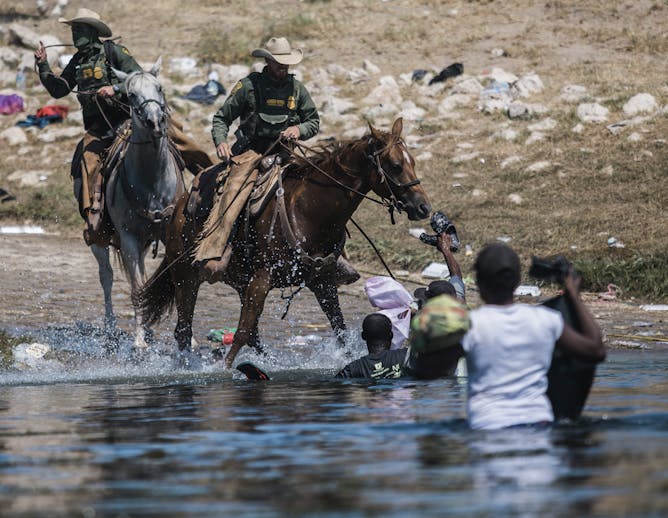 The Biden administration has used a public health provision to deport thousands of Haitian migrants entering the US via Mexico.
Ethics + Religion
When the 5,300-year-old mummy of Ötzi the Iceman was found 30 years ago, researchers found 61 tattoos on it. A scholar explains how tattoos have been a sacred part of many cultures across the world.
Health
Fault lines between the FDA and CDC regulatory processes have been on full display in the decisions over which groups of Americans should receive the Pfizer booster shot.

Your body produces antibodies after an infection or vaccine, but these slowly decline over time. New Johnson & Johnson data sheds light on the duration of protection and the need for booster shots.

Energy drinks and coffee both contain lots of caffeine. That's a problem for teens, especially those who take prescription stimulants.
Politics + Society
Environment + Energy
The US has learned that it cannot suppress its way to a healthy relationship with fire in the West. That strategy failed, even before climate change proved it to be no strategy at all.

About 60% of Mexico's forests are managed by local communities. A scholar who has studied the forests for 30 years explains how this system protects the forests and the people who oversee them.

When a disaster strikes, you may be stuck for days without power or safe running water. Or you might only have time to grab a bag and go.
Economy + Business
Education
Trending on Site
Since the coronaviurs first began spreading around the globe, people have debated how effective masks are at preventing COVID-19. A year and a half in, what does the evidence show?

While surveys have shown a large share of unvaccinated workers threatening to quit over a mandate, the reality is few actually do.

Building even more power poles and transmission lines won't avert outages when major disasters strike.