Top headlines
Lead story
Arizona is booming, especially its metropolitan counties, which have some of the fastest-growing economies in the nation. But a regional water shortage is already curbing development in some Phoenix suburbs, and it could undercut the state's expansion.
State officials are considering building a massive desalination plant on the Sea of Cortez in Mexico and piping water from there to Arizona's thirsty cities. But water experts Gabriel Eckstein, Sharon B. Megdal and Clive Lipchin aren't convinced that this expensive option will secure Arizona's water future. Instead, they write, the state should take a page from Israel, which has figured out how to prosper in a desert setting by obtaining water from many sources and using it wisely.
[ Sign up for our weekly Global Economy & Business newsletter, with interesting perspectives from experts around the world. ]
Jennifer Weeks

Senior Environment + Cities Editor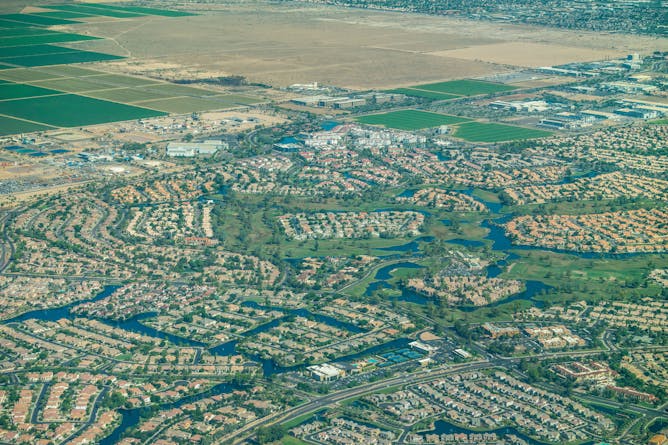 Arizona is considering a multibillion-dollar desalination project to address its urgent water needs. Three water experts call for a go-slow approach and point to Israel as a role model.
Economy + Business
Arts + Culture
People might go to the movies to escape reality. Yet Barbie and Ariel choose to live in the world their audiences inhabit − and, in doing so, decide to die.
Education
Science + Technology
Health + Medicine
Ethics + Religion
Politics + Society
International
No US president has set foot on sub-Saharan Africa since 2015 – and it hasn't gone unnoticed.

A controversial new city project in northern California has echoes of past utopian plans – but idealism and commercial reality have always been uneasy partners.