U.S. national parks protect some of the nation's most iconic places for the public to enjoy. But visitors are crowding the parks in such numbers that several popular sites, including Yellowstone and Yosemite, are requiring advance reservations.
Colorado State University historian Michael Childers sees the parks' crowd woes as part of a pattern dating back to the 1920s, when Americans first took up long-distance travel en masse. In his view, many popular national parks need reservations systems to prevent tourists from destroying the places they've come to see.
Also today: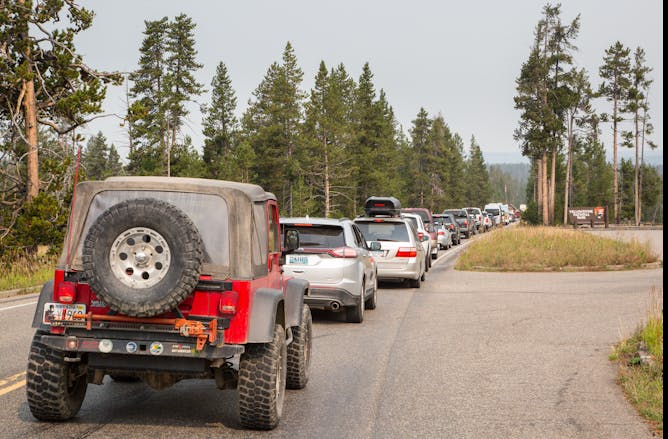 It's hard to preserve national parks "unimpaired," as US law directs, when they're overrun with tourists who stray off paths, strew trash and harass wildlife. A parks scholar calls for crowd control.
Health
Politics + Society
Environment + Energy
The 2021 hurricane season is almost here, and it's forecast to be another busy one. Here's how heat, winds and the shape of the seafloor raise the risk for places like Miami and New Orleans.

Misunderstanding disaster warnings can have catastrophic consequences for people who don't speak the language used for emergency communications.
Ethics + Religion
Southern Baptists are calling for an investigation into the ordination of three women. A scholar explains why this continues to be a fraught issue, even though 2,500 women have been ordained to date.
Arts + Culture
Education
From our International Editions
National governments need to wake up to the volcanic risks posed by tectonic rifting around Mount Nyiragongo.

Environmental groups have protested logging of British Columbia's old-growth rainforest for three decades. But the Fairy Creek dispute could grow into another 'War in the Woods.'

Choosing the right "cocktail" of light activity, exercise and sitting, can improve health and decrease risk of premature death.

---

Today's graphic