When lawmakers in the House begin their impeachment proceedings against President Donald Trump, they will focus on what he said to supporters at a rally that turned into a riot and a violent assault on the Capitol.
The question they must answer: Did Trump's inflammatory words incite that violence?
Kurt Braddock, a scholar in the School of Communication at American University, says "decades of research on social influence, persuasion and psychology show that the messages that people encounter heavily influence their decisions to engage in certain behaviors." In other words, writes Braddock, the president's words can be shown to have consequences.
Also today:
Naomi Schalit

Senior Editor, Politics + Society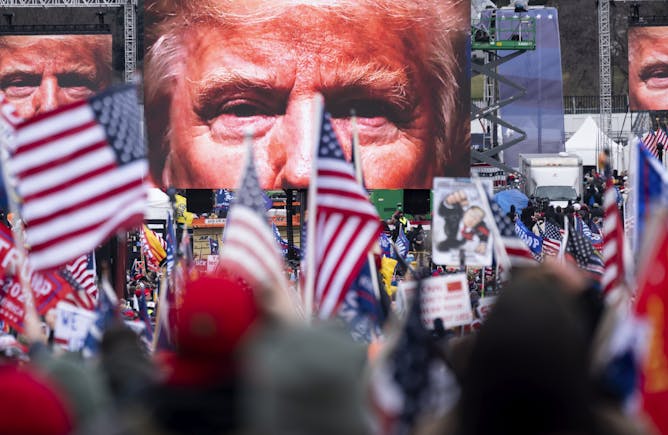 Words have consequences. And decades of research supports the contention that Donald Trump's words could in fact incite people to mount an insurrection at the US Capitol.
Ethics + Religion
Health + Medicine
Politics/Election '20
With obscenities and violence, rioters at the Capitol left an obvious message: angry contempt for women.

The US faces many of the same problems Germans faced after World War II: how to reject, punish and delegitimize the enemies of democracy. There are lessons in how Germany handled that challenge.

Onlookers who recognized the flag wondered why the mostly white mob had 'coopted' Vietnamese history. But Vietnamese Americans are Trump supporters, too, some driven by a potent fear of socialism.
Education
Congress passed a new law in late 2020 that will change how students apply for money for college. An expert explains what the changes mean for students and families.

Caregivers can strategize with young gamers and challenge racist and sexist stereotypes.
Environment + Energy
Arts + Culture
What would happen, the Russian novelist wondered, when people lacking any semblance of ideological or moral convictions rise to power?
Science + Technology
AI algorithms can solve hard problems and learn incredible tasks, but they can't explain how they do these things. If researchers can build explainable AI, it could lead to a flood of new knowledge.

Anti-nutrients naturally occur in food and can block the amount of other nutrients available for your body to use. But their effects aren't all bad, which is why they're undergoing an image makeover.
Video
Most read on site
The crowds that stormed the US Capitol on Jan. 6 were not just engaged in an effort to support Trump. The symbols they carried were of an extreme form of anti-Semitism.

We may think of flags as fixed symbols with a specific meaning, but there are few symbols whose significance is truly permanent.

Consumers can turn plastic waste into valuable products at minimal cost using the open source technologies associated with DRAM – distributed recycling and additive manufacturing.