Jackie Robinson was a hero on and off the baseball diamond, becoming a star athlete in college and a civil rights advocate before and after he integrated major league baseball.
Robinson's life, however, was short; he died at 53. That was long before people knew much about Black-white health gaps. Years later, it's worth asking: Did the racism he faced contribute to an early death? Three scholars of health disparities explain how racism harms Black people's health and shortens their lives, affecting even the strongest and the most stoic.
Also today: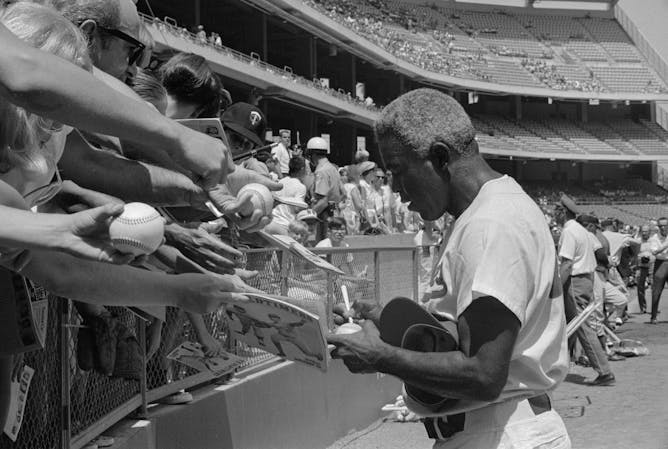 Major league baseball opens today, and few are likely to give race a thought. When Jackie Robinson integrated MLB in 1947, it was a far different story. Did racism lead to Robinson's early death?
Education
Health
Early testing results look promising, and a vaccine will likely be authorized for teens by fall. That doesn't mean putting away the face masks, though.

Many people never experience the least bit of discomfort from the COVID-19 vaccines, but mild side effects are common. They include swelling in the affected arm, nausea and chills.

The findings suggest that many Black and Hispanic Americans don't believe health care providers are listening to them.
Arts + Culture
Ethics + Religion
Politics + Society
Riots by proslavery forces raged for three days in the nation's capital after the capture of a ship bearing fugitive enslaved people. The president, a slaveowner himself, tried to calm the city.
Science + Technology
Sauerkraut, sourdough, beer...and chocolate? They're all fermented foods that rely on microbes of various types to transform the flavor of their raw ingredients into something totally different.
Environment + Energy
Trending on site
Hollywood loves a good monster battle, and where better to turn for inspiration than the animal kingdom? Traits from real animals can provide clues about the fighting prowess of Kong and Godzilla.

Trans Day of Visibility, celebrated March 31, is a day to honor the trans community and counter transphobia.

Tech companies' use of dual-class share structures to keep control in the hands of founders and other insiders gives a handful of people power over enormous swaths of American life.

---

Today's graphic