Top stories
Note from Sam
Last July, I sat in a French airport alongside other disgruntled passengers awaiting an update about my delayed return flight to the UK. Stansted's runway had fallen victim to the UK's hottest ever weather (a balmy 40℃). And yet the prospect of even hotter weather this summer looks like a banker. Heat records now tumble what feels like every year.
New research suggests that this is part of a long-running trend of increasing heat extremes in north-west Europe. Matthew Patterson explains how he found that the region's hottest days have warmed by around 0.6℃ per decade since 1960 – double the rate at which its average summer days have warmed. Not surprising then that the World Meteorological Organization is now predicting a 66% chance the crucial 1.5℃ global warming threshold will be crossed within the next five years.
More bad news if you're a man who works shifts or otherwise has his natural sleep patterns disrupted. A new study shows men may be more vulnerable to the health consequences of having a misaligned body clock. I wouldn't recommend using it as an excuse to avoid getting up to change the baby in the night though.
If all that's put a dampener on your day, perhaps try reading about acts of kindness. Research suggests that such good news – such as people providing free veterinary care for stray animals – can counter the negative effects of reading about the bad.
Sam Phelps

Commissioning Editor, Environment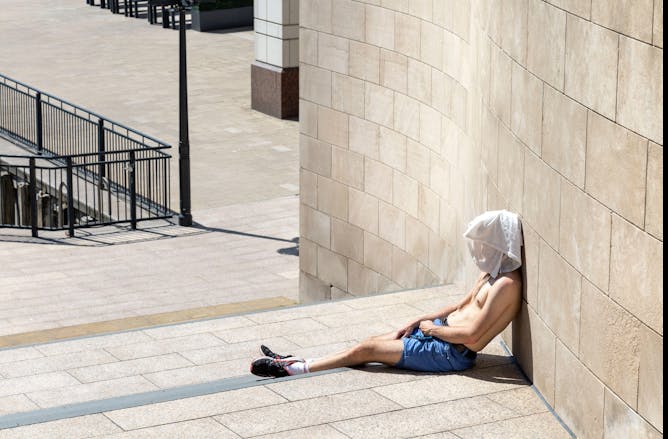 Hot days are getting hotter in north-west Europe – and the region is poorly equipped to cope.
Arts + Culture
Throughout their history, tattoos have helped bind together out-groups.

Through collector Jordan's fetishistic interest in Asian women, Beef shows the troubling link between collecting artefacts and sexual control.

Ancient rituals and games possess characteristics like repetition, structure and the use of symbolic objects that aid students in understanding the world.
Business + Economy
Here's what you need to know about these mini loans.

An expert on what the post-homeownership world looks like.

New mortgage products designed to help struggling first-time buyers hark back to the pre-2008 market and so should come with a warning.
Cities
Too often, in discussions about tropical modernism, what African architects working in Africa were doing is overlooked. Their work matters.
Environment
Meltwater rivers in the European Alps will change as glaciers melt – threatening animals that are vital for alpine ecosystems with habitat loss.

There's a 98% chance of a record hot year by 2028, and a 66% chance of exceeding the 1.5°C threshold for at least that year, according to the latest World Meteorological Organization update.
Health
The proposed plans will likely benefit patients – but only if more is done to ensure pharmacists can provide these additional services.

Our study also found that seeing articles or videos about kind acts can help viewers feel more positively about humanity in general.

A new study looked at mouse models and health data from more than 90,000 shift workers in the UK.
Science + Technology
Of the risks posed by AI, overtaking human intelligence isn't an immediate concern.

A psychologist looks at if there is anything Donald Trump could do that might stop his supporters in their tracks.
Yn y Gymraeg