Facebook has been caught stealing a page from the tobacco industry's playbook: Deny your product is harmful, even as your own researchers prove that it is. And just as a wealth of public health evidence refuted tobacco industry PR, years of research into social media use has documented harmful psychological effects.
Much of that harm falls on adolescents, particularly girls. Psychologist Christia Spears Brown explains why Instagram is particularly problematic and details two ways the social media platform hits teens where they're vulnerable: social standing and body image. She also offers advice for parents on how to help their teens avoid the pitfalls of Instagram.
In the meantime, Mark Zuckerberg is left to ponder the possibility that history will label him the digital equivalent of a tobacco company CEO.
Also today: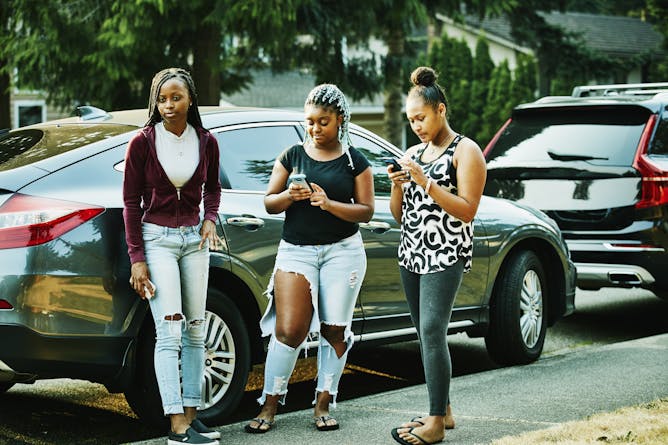 There is ample research about how harmful Instagram is for teen girls, especially around body image. It turns out Facebook's own research confirms it.
Health
Long-term solutions to the nursing shortage call for changes that value nurses and offer them a safe place to work.

There are a variety of reasons why people do or don't want to be vaccinated. Depending on how they frame their messaging around vaccination, doctors can often be the deciding factor.
Environment + Energy
Rivers are among the most embattled ecosystems on Earth. Researchers are testing a new, inexpensive way to study river health by using eDNA to count the species that rivers harbor.

This year's unprecedented fall armyworm invasion has laid waste to lawns, athletic fields and crops. Is it a fluke? When will it end?
Economy + Business
Science + Technology
Electromagnetic beams of the right power and wavelength can cause pain and zap electronics. Could they also be used to disrupt a person's nervous system?

In the past decade, the number of satellites in orbit has skyrocketed thanks to tiny electronics and cheap launches. The crowded night sky is posing problems for astronomers and astronauts.
Politics + Society
Podcast 🎙️
From our international editions
The secrecy surrounding this major announcement is troubling, and there are many questions still to be answered.

Helicoptering heavy herbivores across Africa is no laughing matter.

Depending on who you ask, the northern lights may, very occasionally, sound like 'rustling silk' or 'two planks meeting flat ways'.
The Conversation Quiz 🧠
How many Muslims live in Latin America?

A. 250,000
B. 500,000
C. 1 million
D. 1.7 million