The U.N. climate conference wrapped up early Sunday, with wealthy countries agreeing for the first time to set up a "loss and damage" fund to help poor nations recover from climate disasters that the victims did little to cause. But what exactly are wealthy nations willing to provide?
Adil Najam, a professor of international relations at Boston University, explains why this deal might not mean more money overall and could end up pitting developing countries against each other.
Also today:
Stacy Morford

Environment + Climate Editor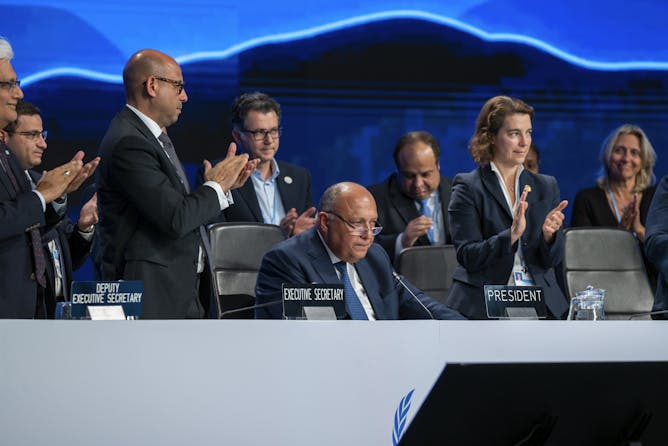 It's a landmark agreement, acknowledging for the first time that wealthy countries bear some responsibility to help. But it leaves many unanswered questions.
Politics + Society
Economy + Business
The value of frequent flyer miles sometimes seems to defy the laws of economics.

A new survey suggests three ways consumers are behaving like the US economy is in crisis, which may become a self-fulfilling prophecy.
Science + Technology
If Twitter were to go dark, with it would go a valuable source of data as well as a means of sharing information relied on by activists, journalists, public health officials and scientists.

People don't randomly select who they have children with. And that means an underlying assumption in research that tries to link particular genes to certain diseases or traits is wrong.
Environment + Energy
Western New York got socked by a storm that dumped 6 feet of snow in parts of the region, including the home of the Buffalo Bills' stadium. A climate scientists explains how storms like this happen.

Start high, drop fast and avoid the free-riders: How to design subsidies that can boost clean energy in the US and elsewhere.
Education
Books are one of the oldest forms of communication 'technology,' a scholar writes, and understanding how they've evolved over time provides insights into their role in society.
Health + Medicine
Arts + Culture
Americans of all stripes have long embraced the culture of the ancient Mediterranean, using ancient ideals to navigate a new world.

A mix of New England and British traditions and historical events led to the particular poultry you'll find on Thanksgiving tables everywhere.