The Apollo missions that put astronauts on the surface of the Moon were – and still are – a triumph of technology and human spirit. But perhaps just as important as those footprints left on the Moon are the samples of lunar rock and soil the astronauts brought back to Earth.
Geophysicists have learned a lot studying those rocks over the years, including that the Moon once had a magnetic field. But the enduring mystery of why it no longer has one remained. Until now.
John Tarduno, a geophysicist at the University of Rochester, reexamined the Apollo rocks with a new technique that can detect even the faintest signs of magnetism. His results not only have major scientific implications for the study of the ancient Sun and Earth, but also can tell us whether the Moon may be hiding a precious stash of resources vital for space exploration.
Also today: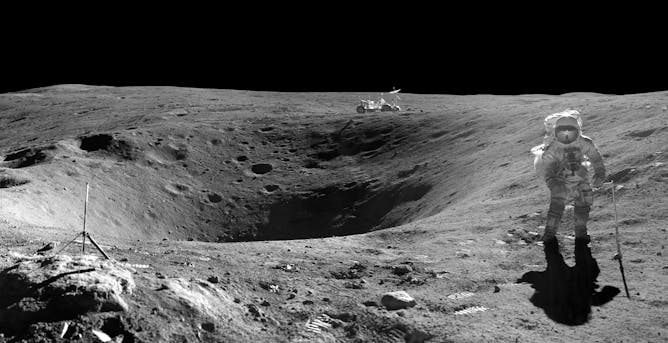 Without a magnetic field, the Moon's surface is exposed to solar wind. These could have been depositing resources like water and potential rocket fuel on the Moon's surface for billions of years.
Ethics + Religion
Education
Environment + Energy
These international climate assessments are used by governments worldwide as they weigh future risks and climate policies.

The giant sea bass fishery collapsed long ago in the US, but that didn't mean the species was endangered. New research shows these iconic fish have been thriving south of the border.
Health
Economy + Business
Decentralized finance makes it easier for virtually anyone to take advantage of financial markets without the need for a bank, but there are new risks as well.

Winners of a new gender-equity contest do an array of work that includes helping caregivers and trying to reduce intimate-partner violence.
Politics + Society
Science + Technology
Trending on Site
Several studies found that using the excuse 'I don't have time' when declining an invitation harmed the relationship with the person who extended it.

The CDC guidance applies to areas with high coronavirus transmission rates – which on the day of the announcement covered 63% of US counties.

An immunologist explains that you get some protection from the first dose of the mRNA vaccines but you need two to build up strong immunity, particularly to newer coronavirus variants.