In a country that touts itself as the richest in the world, the fact that tens of millions of Americans don't have regular, reliable access to adequate food is as shocking as it is depressing. But the truth is upward of 35 million people are food-insecure in the U.S., with that number likely to be higher in 2021 as a result of the economic hardship brought on by the pandemic.
Indeed, waiting in long lines outside food banks has become as routine for many Americans as lockdowns and social distancing – which is why we here at The Conversation are turning our attention to food and poverty in the U.S. In the coming weeks and months we will be publishing articles looking at hunger and food insecurity, focusing on who it affects and why, and what can be done to address it. We will delve into issues such as food justice – looking at how the history of racial inequity has factored into an uneven availability of healthy food – the impact of food insecurity on health, and the food supply chain at a time when climate change threatens to be a major disruptor.
Kicking off the series are articles that look at the here and now and offer some hope for the future. Caitlin Caspi, professor of public health at the University of Connecticut, explains what food insecurity is and how it fits with other food access concepts such as food sovereignty and hunger. University of South Florida scholars David Himmelgreen and Jacquelyn Heuer look at the role food banks have played both historically and during the current crisis. We also have a panel on what is being done to help the 18 million children at risk of hunger in the U.S. and a look at how Connecticut schools are making sure low-income students continue to receive meals during the pandemic. Finally, Craig Gundersen, who has spent 25 years investigating the causes and consequences of food insecurity, provides an assessment of what the Biden administration could – and should – be doing to attain what no president to date has achieved: the near elimination of hunger in the U.S.
Also today:
Matt Williams

Religion & Ethics Editor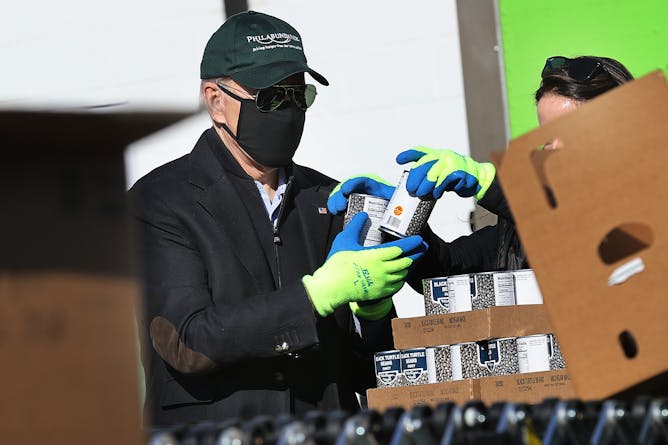 The United States has a robust food supply chain and a social safety net in place that could, if fully utilized, nearly eliminate hunger within its borders.
Food and poverty
A food policy researcher helps make sense of the lexicon of US food policy terms, and explains how they relate to racial justice.

The number of people assisted by food banks had been growing over the two decades before the COVID-19 pandemic. Today, these nonprofits are facing even more demand.

It helped that school food service staff quickly changed their preparation, packaging and distribution methods to feed students who were no longer eating in cafeterias.
Science + Technology
Health
Getting pharmacies more involved could be a game changer, particularly for reaching minorities, older adults without internet access and others left behind.

People often worry about whether they may be addicted to digital devices, but addiction to a substance is far different from the habitual behavior that typically underlies digital usage.
Ethics + Religion
For many of us, the popular film, 'Groundhog Day' may bring up fond memories of a classic comedy. But a scholar argues there's more to the film – it's a lesson in mindfulness.
Politics + Society
Economy + Business
From our international editions
Polluted oceans don't just harm wildlife, they are a source of ill health for humans too.

Is a person dead when their heart stops beating? It turns out that the classic "flatline" of death is not so straightforward.

While new Indian agricultural reforms are ostensibly aimed at empowering farmers, there are fears they will have the opposite effect. Here's why.

---