After months of social distancing and lockdowns, people around the world are anxious, lonely and yearning to see friends and family. But in many places, especially the U.S., the pandemic is far from over. How do we balance the risk of infection with the very real human need to socialize?
Melissa Hawkins, an epidemiologist at American University, explains that quarantine bubbles – dubbed "quaranteams" – could be the answer to this conundrum. Quarantine bubbles don't eliminate risk entirely, but, when the people involved are honest, communicate and follow the rules, the evidence suggests quaranteams could be the best way forward.
Also today: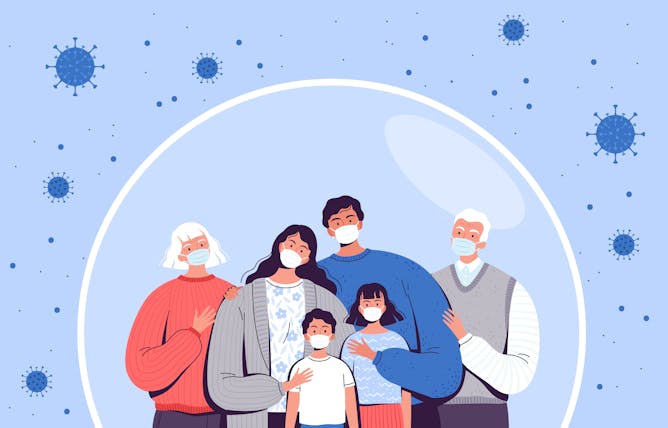 People are turning to quarantine bubbles as a way to see friends and family while limiting the risk from the coronavirus. Research shows that this can work, but it's not easy to be in a quaranteam.
Science + Technology
Should the US be able to pre-order vaccines for its citizens when other populations around the globe are at greater risk?

To find a SARS-CoV-2 vaccine, scientists need to work hands-on with the highly infectious coronavirus. It happens in a super secure lab designed to keep them safe and prevent any escapes.
Environment + Energy
In the 1800s, Americans hunted many wild species near or into extinction. Then in the early 1900s, the US shifted from uncontrolled consumption of wildlife to conservation. Could Asia follow suit?
Health + Medicine
Pathogens typically face a trade-off between virulence and transmission. But that's not the case with SARS-CoV-2.

A give-and-take between patient and provider is essential to patient care. As the COVID-19 pandemic ushers in a new era of medicine, one doctor wonders if this connection will be lost.
Economy + Business
Ethics + Religion
Most read on site
SARS-CoV-2 can be spread through the air. But just how much of a factor that is has been hard to determine. Recent evidence suggests it is common, posing problems as public places begin to reopen.

People have lived with infectious disease throughout the millennia, with culture and biology influencing each other. Archaeologists decode the stories told by bones and what accompanies them.

Generic names can take on a linguistic life of their own, becoming powerful forms of social commentary.