Editor's note
One of the things that's so frustrating about covering the coronavirus pandemic is how much we just don't know. As scientists work overtime to fill in all these knowledge gaps, the rest of us are left wondering. That's why I was happy that University of Virginia infectious disease specialist William Petri agreed to round up what studies so far suggest about asymptomatic coronavirus. How can you catch a virus, spread it and fight it off, all without knowing you'd been infected?
Also today:
Maggie Villiger

Senior Science + Technology Editor
Top story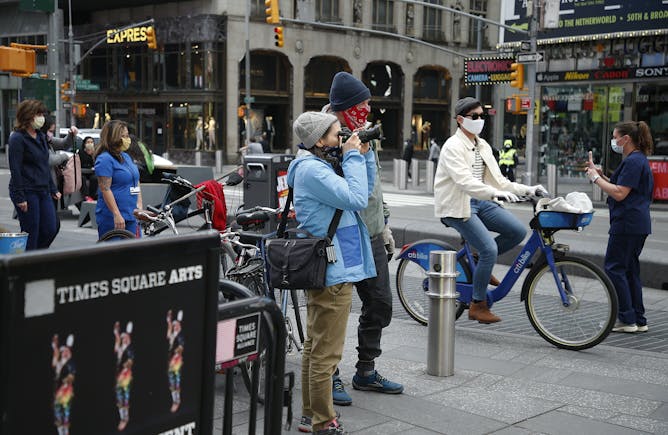 Your body can be infected and fight off SARS-CoV-2 without your ever noticing.
Economy + Business
About one in four businesses say they're two months away from permanent closure, yet many of the neediest businesses are struggling to get some of the aid intended for them.

New research shows much of the information the apparel industry relies on to ensure factories comply with labor and safety laws is falsified or otherwise unreliable.
Science + Technology
Bluetooth wireless communication makes it possible for people to get alerts on their phones when they've been exposed to the coronavirus. Adding the right cryptography scheme keeps those alerts private.

The term 'Big Bang' might make you think of a massive explosion. Put the thought out of your head. Rather than an explosion, it was the start of everything in the universe.
Politics + Society
From getting schooling for their children through an app in the wrong language to trouble finding gloves and masks, refugees across the globe face different challenges in dealing with the coronavirus.

Fear of strangers extends beyond racism and discrimination against people who look like they might come from another place – it includes people who sound different, too.
Environment + Energy
If the forecasts are right, the US could be facing more natural disasters this year – on top of the coronavirus pandemic. Local governments aren't prepared.

A new study forecasts that thousands of miles of new road construction will cut through tiger habitat across Asia by 2050. Planning can make these projects more tiger-friendly.
Health + Medicine
Ethics + Religion
Most Read on Site
Decriminalizing medical and recreational marijuana may exacerbate racial inequality within the criminal justice system, among other things.

A professor's extra credit question goes to show how, as humans, we do care for each other. The challenge is: how do we apply it to more pressing problems of the world?

The idea, says our experts, was to shut down Obamacare. But it didn't work out that way. This could take on more importance as the number of uninsured swells due to coronavirus.