Video evidence was the "star witness" in the murder trial of former Minneapolis police officer Derek Chauvin as well as the Friday grand jury indictment of him and three of his colleagues. Police body cameras, dashboard cameras, surveillance cameras and a video taken by an eyewitness on a smartphone were crucial to both Chauvin's murder conviction and the indictments.
Sandra Ristovska of the University of Colorado, Boulder, has been studying the use of video evidence for the past eight years. She uses the 1991 case of Rodney King, in which police officers were acquitted despite video evidence that showed them beating King, to explain how judges, attorneys and jurors may interpret what they see very differently. In other words, seeing is not always believing, she writes.
Also today:
Kalpana Jain

Senior Religion + Ethics Editor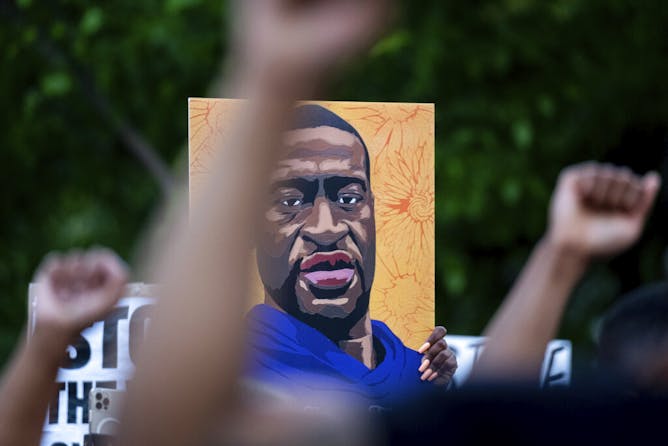 Video evidence can be powerful at a trial – but it does not always lead to a fair rendering of justice.
Environment + Energy
The US has one of the highest groundwater use rates in the world. When wells run dry, households may opt to conserve water, find new sources or sell and move.
Science + Technology
Combining archaeological evidence, aerial scans and machine learning algorithms, researchers modeled how this medieval city grew over time.

DNA has been storing vast amounts of biological information for billions of years. Researchers are working to harness DNA for archiving data. A new method uses light to simplify the process.
Education
Politics + Society
Many states have found ways to remove partisan politics from their court systems.

Haitian president Jovenel Moïse is accused of overstaying his term, embezzling funds and dismantling parliament. Protests are a hallmark of his presidency – but the language of them has changed.

Nicola Sturgeon wants Scotland out, Boris Johnson hopes to hold it all together and Mark Drakeford believes in the best of both worlds.
Economy + Business
The process will take months, if it's even approved. But just the threat of waiving intellectual property rights could spur faster action.

President Biden wants to use his $2.25 trillion infrastructure plan to shore up child and home care. A scholar explains why that kind of care is just as critical as roads and bridges.
Health
Trending on Site
The vaccine rollout is underway, but what happens if there is a supply disruption? Would it be feasible to change strategy and give more people a first dose? An expert analyzes the data.

Astronomers just measured the largest flare ever from Proxima Centauri, humanity's closest neighboring star. These flares could be bad news for life trying to develop on a planet orbiting the star.

Combining evidence from archaeology, geochronology and paleoenvironmental science, researchers identified how ancient humans by Lake Malawi were the first to substantially modify their environment.

---

Today's graphic