Breaking news about the emerging omicron variant of the coronavirus was an unwelcome dark cloud over my Thanksgiving weekend. When officials suggested it would be several weeks before it was clear just how bad the omicron news really was, it got our staff wondering what kind of science would be going on in the interim.
Luckily, Peter Kasson, a virologist and biophysicist at the University of Virginia, stepped up to explain what researchers are doing in laboratories right now to figure out how contagious and dangerous omicron is and whether current vaccines are up to the fight. He writes that it's "a combination of public health data and understanding from the lab" that fills out the picture of any new coronavirus variant.
Also today: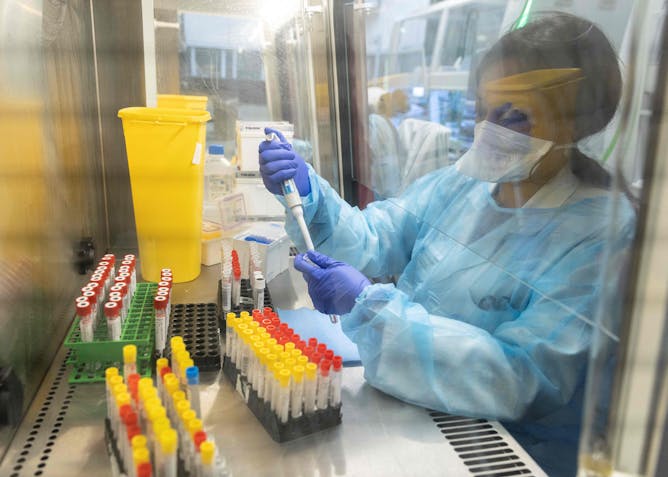 Careful lab work will complement public health data as researchers worldwide focus on omicron, asking questions about contagiousness, severity of disease and whether vaccines hold up against it.
Science + Technology
Burning leaded gasoline releases toxic lead into the environment, and for 100 years people around the world have been dealing with the health effects. How did a century of toxic fuel come to be?

Sixty percent of the Standard American Diet consists of ultra-processed food, which isn't great for colon health. Researchers are looking into whether artificial food colors play a role.
Health
Ethics + Religion
Traditionally, Buddhism has been opposed to women taking on leadership roles. However, nuns in many Buddhist-majority countries are challenging the patriarchal rules.
Politics + Society
The Dayton accords in 1995 ended years of ethnic warfare in Bosnia, but more than 25 years later, the peace is holding but little else is. Serbian President Milorad Dodik wants out.
Economy + Business
Giving away stock that has soared and that the donor has owned for at least a year makes the biggest dent in what share the IRS takes.

These photos tend to oversimplify the issues that cause poverty and the suffering of poor people in low-income countries.
Trending on Site
A record number of Americans are quitting their jobs. But before you opt to join them, you should consider the risks and costs.

The new omicron variant of coronavirus has a number of mutations that may require manufacturers to update vaccines. The unique attributes of mRNA vaccines make updating them fast and easy.

Spoiler alert: Stolen guns arm criminals, and limiting gun carrying outside the home reduces violent crime.

---

Today's graphic

From the story, In the fight against climate change, China is doing more than you think – but still not enough