As the COVID-19 virus evolves, so will vaccine guidelines.
One thing that's been clear from the start is that immunocompromised people have a high risk of severe and prolonged COVID-19 infections. And those with a weakened immune system are especially vulnerable to the highly contagious delta variant making its rounds through the U.S., even if they are vaccinated – 44% of all breakthrough cases that lead to hospitalization are among this group despite making up just 2.7% of the population. This is why the FDA and CDC recently recommended that people who are moderately to severely immunocompromised receive a third vaccine dose to bolster their protection.
To learn more about why a third dose is necessary for immunocompromised people, we asked physician scientist Jonathan Golob of the University of Michigan to explain what conditions can result in a weakened immune system, and how immunocompromised people can best protect themselves from COVID-19.
Also today: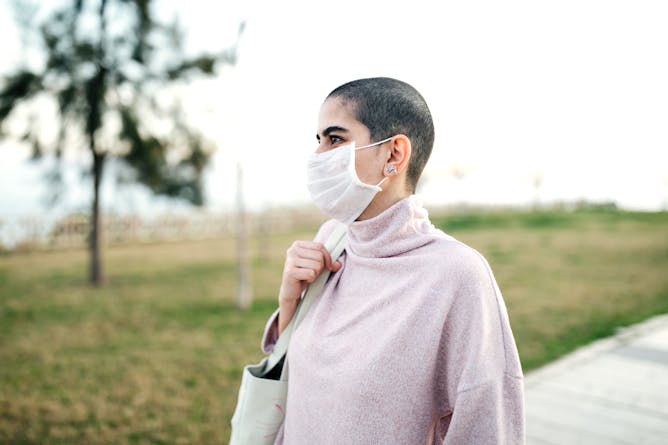 People with weakened immune systems are at a high risk of severe and prolonged COVID-19 infections. An extra vaccine dose can bolster protection.
Politics + Society
People wanted to use photography not only to document the aftermath of war and violence, but also to actively support peace.

The Afghan military's collapse was the collective result of individual soldiers making rational decisions based on what they expected their comrades to do.
Arts + Culture
While they weren't living through a pandemic, citizens of ancient Pompeii weren't strangers to societal stress.

Black Americans' contributions to some of the country's most iconic dishes and spirits are finally starting to be recognized in the media and in museum exhibitions.
Health
A public health scholar based in New Delhi explains how India has emerged from the massive spike in COVID-19 cases, even as the country braces for a new wave.

Outsourcing is common in many hospitals. But when health care systems outsource certain clinical tasks to separate companies, costs can go up, quality of care can fall and patients can be harmed.
Ethics + Religion
Science + Technology
Podcast
From our international editions
The emergence of variants of concern with increased potential for transmission and more severe disease in the younger population could make Africa more susceptible to a severe COVID-19 epidemic.

Indigenous people and communities are not monolithic. How they react to and deal with tragedy will be different. Acknowledging that will help us all heal.

As New Zealand enters another lockdown after detecting a single COVID case, it's time to consider whether stringent zero COVID strategies are feasible in the long term.
The Conversation Quiz 🧠
According to the Health Nutritional Index, eating one hot dog costs a person how many minutes of "healthy" life?

A. 27
B. 36
C. 60
D. 106