Large demonstrations continued across the United States this weekend, commemorating Juneteenth, protesting police violence and declaring, above all, that Black lives matter. The protests, which began in late May following the police killing of George Floyd, are generally described as anti-racism – and that they are. But, says Lilian Bobea, a Dominican Republic-born scholar of human rights movements in Latin America, this sustained American protest wave also looks a lot like the pro-democracy, anti-authoritarian movements she studies.
Catesby Holmes

Religion Editor | International Editor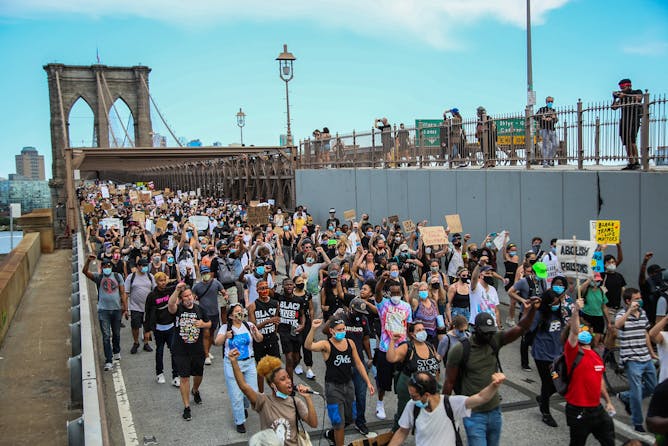 Unrest in the US looks familiar to Latin Americans, who are accustomed to resisting undemocratic governments – and to their protest movements being met with violent suppression.
Education
At least for now, hundreds of thousands of students can stay in school without facing new hardships.

Children need time to play and be outside. That will be true even if instructional hours are cut short due to social distancing.
Politics + Society
Science + Technology
In order to create an efficient future transportation system, autonomous vehicles need to accommodate people with different mobility needs.

Physicists can use bright, hot lasers to slow atoms down so much that they measure -459 degrees Fahrenheit.

Artificial intelligence insatiable data needs has encouraged the mass collection of personal data, placing privacy at risk. But AI can help solve the very problem it creates.
Economy + Business
Arts + Culture
In the 1950s, 'coming out' meant quietly acknowledging one's sexual orientation. Today, the term is used by a broad array of social movements.
Ethics + Religion
Most read on site
Sexual abuse has unique effects on people who are members of the same minority group, research suggests. An expert who has studied the issue in detail explains the added issue of cultural betrayal.

In a 5-to-4 decision, SCOTUS delivered a major blow to Trump and opened the doors to the court being an arbiter of public honesty

On Juneteenth, the day that commemorates the ending of slavery in the US, a historian dispels myths about the 'peculiar institution' of slavery.