The U.S. now has a COVID-19 vaccine authorized for emergency use. This is welcome news, but vaccines don't stop a virus; vaccination does. With millions of doses of the Pfizer vaccine en route to health systems around the country, the final phase of this nearly year-long effort is just beginning.
The University of California, San Francisco, is set to receive its first shipment of vaccines any day now. Desi Kotis, an associate dean and professor of pharmacy, is the person in charge of the vaccine rollout in one of California's biggest health care systems. She explains her team's step-by-step plan to get the most vulnerable people vaccinated as fast and as equitably as possible.
Also today:
Daniel Merino

Assistant Editor: Science, Health, Environment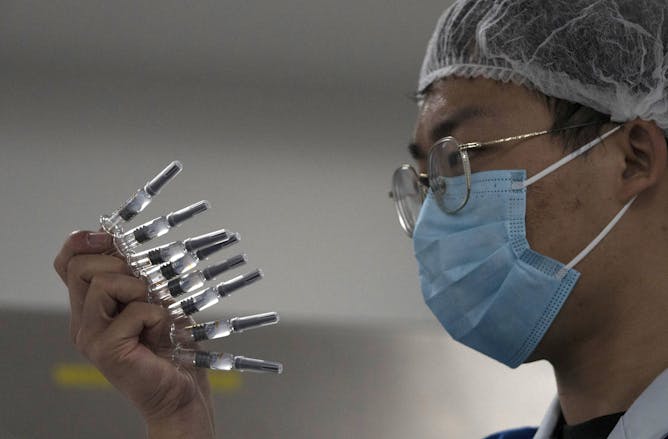 Health systems around the US are on the cusp of receiving COVID-19 vaccines. At the end of this months-long effort are the nitty-gritty details of how health care providers are giving people the vaccine.
Politics/Election '20
The absence of effective government policy doesn't make citizens free. It takes away their power, leaving them less able to act to address their needs. That's especially clear during the pandemic.

Five scholars explain different aspects of the history, workings and effects of the Electoral College.

Lawmakers are unlikely to grant Puerto Rico's request for admission into the Union – unless, perhaps, the Democrats win both Senate seats in Georgia's Jan. 5 runoff election.
Health + Medicine
The pandemic is placing strain not just on doctors and nurses but the medical laboratory professionals who conduct the billions of medical tests behind the scenes.

Dayton Children's Hospital has begun to screen patients and their families for food insecurity, referring many of them to its 'Food Pharm.'
Ethics + Religion
Speculation has swirled over whom President Trump may pardon before leaving office. But why do presidents have the right to pardon, and how should it be used?

Educators walk an fine line when it comes to marking religious holidays. But in so doing, are they missing an opportunity for teachable moments on faith issues?
Education
Environment + Energy
Science + Technology
As editor of the magazine for 24 years, Du Bois featured articles about biology, evolution, archaeology in Africa and more to refute the rampant scientific racism of the early 20th century.

Mermaids are not real, but are meaningful to people around the world.
Most read on site
High-power microwave weapons are useful for disabling electronics. They might also be behind the ailments suffered by US diplomats and CIA agents in Cuba and China.

Field theory describes the universe as energy flowing along unending lines. With this perspective, it is possible to define a new fundamental building block of matter.

Possessing heroin, cocaine, meth and other drugs for personal use is no longer a criminal offense in Oregon. The idea is to get people with problem drug use help, not punishment.