I still remember the feeling I had – like missing a step – when my professor first referred to the brilliant mathematician Emmy Noether as "she." Even though I am a woman studying mathematics, I had assumed Noether would be a man, as so many other of the "greats" we studied were. It surprised me how moved I was to learn she was a woman, too.
Looking deeper into Noether's life, I discovered that her career path was not easy: She was a Jewish woman at a time when neither Jews nor women were welcome in German academia. She fought sexism for years to get the professorship she deserved – and lost her job almost instantly when the Nazis came to power.
This year marks the 100th anniversary of Noether's groundbreaking paper on ring theory, and in my story for The Conversation, I explore how her journey and mathematical contributions have inspired mathematicians like me right up to today.
Also today:
Tamar Lichter Blanks

AAAS Mass Media Fellow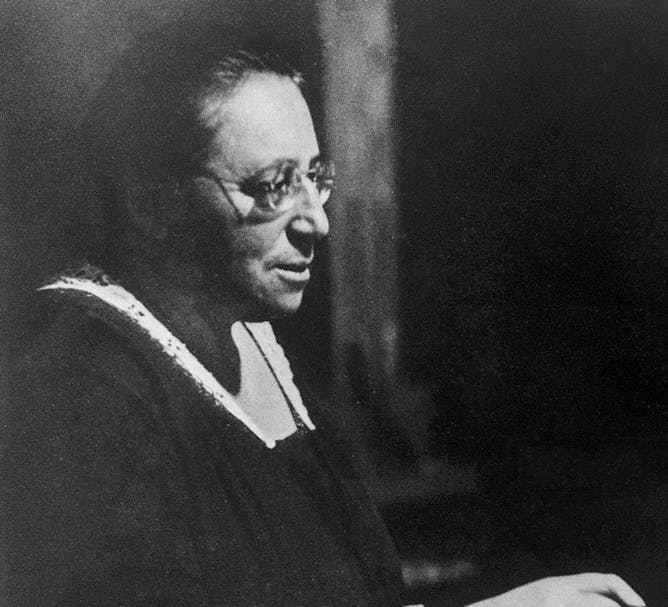 A century after publishing major papers in theoretical mathematics, German-born Emmy Noether continues to challenge and inspire mathematicians with her story and mathematical legacy.
Ethics + Religion
Environment + Energy
Science + Technology
Arts + Culture
Politics + Society
A scholar and practitioner of foreign policy and national security offers personal and professional perspectives on the US withdrawal from Afghanistan.

In its peace deal with the US, the Taliban 'pledged' to prevent al-Qaeda from operating out of Afghanistan. But there are signs the terror group is already there, hiding out of sight.
Economy + Business
Trending on site
Research suggests that reminding Americans – Democrats and Republicans – of their family history creates empathy for immigrants and more favorable views toward immigration.

COVID-19 vaccination produces a more consistent immune response than a past infection. With the delta variant, the difference in protection may be even greater.

These giant predators are helping solve the mystery of Earth's cooling shift some 50 million years ago.

---

Today's graphic