A few months ago, my colleagues and I discussed the possibility of doing a story on triage, or "crisis standards of care," in hospitals. At the time, in early fall, a few states were experiencing surges in COVID-19 cases, and we hoped to bring a story to our readers about the ethical decisions that health care workers face during a COVID surge. But then the tide changed, and caseloads across the country began dropping dramatically. In the news business, that meant our story was no longer timely. We were relieved to move on to other topics since triage was no longer in the news.
Sadly, that's no longer the case. Right before Thanksgiving, COVID-19 case numbers began to trend upward yet again. And then omicron surfaced.
Here in Colorado, where I'm based, hospitals have been operating in various phases of triage care throughout most of the COVID-19 pandemic. As Matthew Wynia, an infectious disease specialist and director of the Center for Bioethics and Humanities at the University of Colorado's Anschutz Medical Campus, explains, crisis standards of care don't turn on and off like a light switch. Contingency measures may change day to day and week to week, depending on what resource is in limited supply.
In today's "front lines" piece about crisis care, Wynia describes in raw detail the impossible choices that health care staff have faced during different phases of the pandemic, and how those decisions translate into heartbreaking conversations with patients and their loved ones. "In a few important ways, the situation has changed," Wynia writes. "Today, our hospitals have plenty of ventilators, but not enough staff to run them. Stress and burnout are taking their toll."
Also today: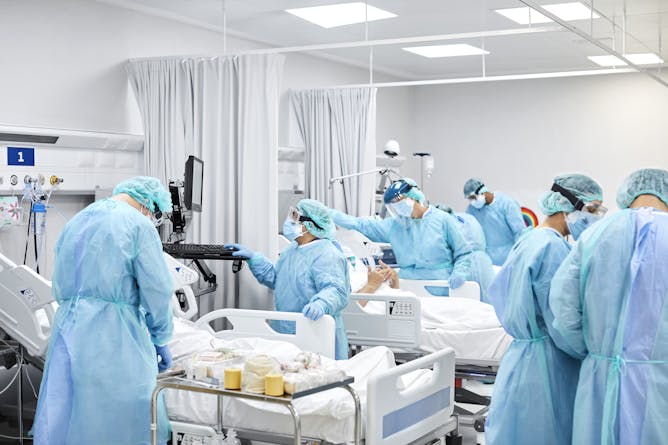 A physician-bioethicist reflects on how health professionals are yet again facing painful reminders of the early months of the pandemic.
Health + Medicine
The Biden administration intends to distribute an additional 500 million at-home rapid COVID tests starting in January.

Vaccines and medical treatments can only go so far in an unequal society. Facing the ongoing history of racial discrimination and bias in the US would help end the pandemic.

Hostile partners can experience jumps in stress and blood pressure after an argument. But there are ways to cool conflicts, even during a pandemic holiday season.
Science + Technology
Log4Shell is the latest hacker exploit rocking the internet, and it's arguably the worst yet. The vulnerability is in an obscure piece of software used on millions of computers.

Physicists know a lot about the most fundamental properties of the universe, but they certainly don't know everything. 2021 was a big year for physics – what was learned and what's coming next?

The ability to store information is central to learning and the field of artificial intelligence. Researchers have shown how a unique material shows basic learning properties similar to that of slugs.
Politics + Society
As Ukraine wrestles with the latest threat from its larger neighbor, two scholars explain how the independent country is often viewed as part of a greater Russia – and why that inflames tensions.

Native Americans are slowly ridding America of demeaning caricatures. It's unclear whether Massachusetts will do the same and remake its flag that now glorifies violence committed by colonizers.
Education
Arts + Culture