Videoconferencing has been a lifeline during the pandemic, but Zoom fatigue has joined all-caps email messages, discussion-busting trolls, stalking by advertisements and bizarre conspiracy theory posts in the pantheon of banes of online existence. It's not surprising when you think about how unnatural it is to have conversations while holding still for long periods of time as you stare at images flickering across a screen.
But there's more to Zoom fatigue than awkward eye contact, lack of body language and feeling like you're in the spotlight. Conversation itself seems to take more effort than it does in person. University of Michigan's Julie Boland, who studies psychology and linguistics, analyzed video conversations to figure out why.
It turns out that getting in sync with someone you're talking to is more than just a metaphor. Researchers believe your brainwaves synchronize with the speech patterns of your conversational partner, and this explains why conversation usually feels effortless. Boland's research shows how videoconferencing throws a wrench in the gears.
Also today:
Eric Smalley

Science + Technology Editor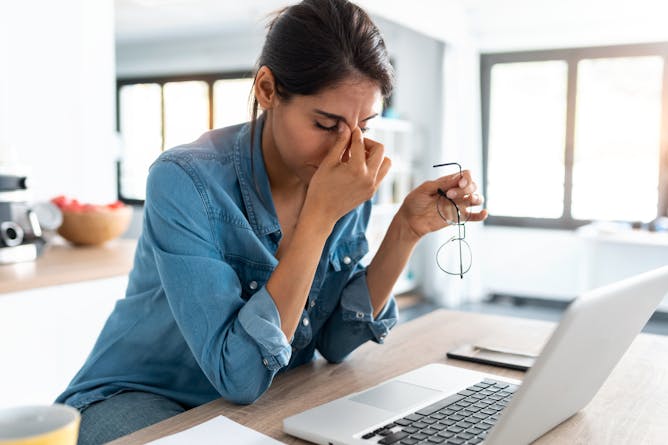 It appears that the rhythms of your brain waves get in sync with the speech patterns of the person you're conversing with. Videoconferencing throws off that syncing process.
Health + Medicine
Politics + Society
Diaries, visitor logs, handwritten notes and speech drafts are among the records Donald Trump has tried to keep from a Congressional committee investigating the Capitol riot of Jan. 6.

When the University of Florida barred three professors from testifying in a lawsuit over voting restrictions, it raised important questions of academic freedom and free speech.
Economy + Business
Ethics + Religion
A scholar of Islam explains how Muslim religious leaders, starting around the year 1050, worked with political rulers to challenge what they considered to be sacrilegious influence on society.
Arts + Culture
Environment + Energy
Long before climate change was evident, California began planning a system of canals and reservoirs to carry water from the mountains to drier farms and cities. It's no longer enough.

As governments and corporations pledge to help the planet by planting trillions of trees, a new study spotlights an effective, low-cost alternative: letting tropical forests regrow naturally.
Education
Podcast 🎙️
From our international editions
The Conversation Quiz 🧠
What year was the first image of Santa Claus produced?
1835
1843
1863
1889
Like this newsletter? You might be interested in our weekly emails: