Top headlines
Lead story
An extraordinary rescue effort is underway off the Florida Keys, as divers race to save thousands of coral fragments from overheating ocean nurseries. Record water temperatures are already bleaching wide stretches of the Florida Reef. While the reef can't be moved to cooler water, the nearby nurseries where coral fragments are being grown can.
Michael Childress, a behavioral ecologist at Clemson University, describes the techniques volunteers and scientists are using to help protect the reef and save the nursery corals, which will one day help restore the struggling Florida Reef.
[ Science from the scientists themselves. Sign up for our weekly science email newsletter. ]
Stacy Morford

Environment + Climate Editor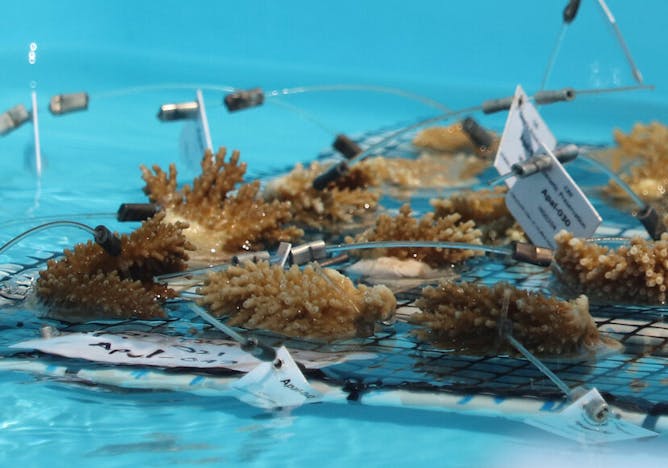 Widespread coral bleaching is underway as ocean temperatures hit record highs off the Florida Keys. Scientists and volunteer divers are racing to save these valuable creatures.
Environment + Energy
Air quality forecasting is getting better, thanks in part to AI. That's good, given the health impact of air pollution. An environmental engineer explains how systems warn of incoming smog or smoke.
Science + Technology
This is a story about geometry, algebra and many different dimensions, best read with construction paper, scissors and tape on hand.

To detect dark matter, you need to build an ultra-sensitive detector and put it somewhere ultra-quiet. For one physics collaboration, that place is almost a mile under Lead, S.D.

Revisions to the CDC's developmental milestone checklists removed crawling as a skill that babies pick up at a typical age. A biomedical engineer describes how more research may clarify its role.
Politics + Society
Kamala Harris is on track to be one of the most influential vice presidents in history. This says more about the Senate than the amount of power the vice president actually wields.

While Trump has received early warnings ahead of indictments and detailed explanations behind the charges, criminal defendants typically get a bare-bones explanation.
Arts + Culture
Over the past 60 years, the duration of flights has remained roughly the same, while passengers have been subjected to more indignities, longer waits and more cancellations.

Afrofuturism, a mix of science fiction, magic realism and liberation politics, has shaped some hip-hop artists' work for decades.
Education
Health + Medicine