American far-right groups are poised to get even more extreme in their beliefs and actions, raising the possibility of continued violence in the wake of the Jan. 6 Capitol insurrection, according to Matthew Valasik and Shannon Reid, co-authors of the recent book "Alt-Right Gangs: A Hazy Shade of White."
The sociologist and criminologist explain what's happening inside groups like the Proud Boys as the nation's citizenry and police continue to address the threat of right-wing political violence. The scholars "expect that extremists will come to see the events of Jan. 6 as just the opening skirmish in a modern civil war."
Also today:
Jeff Inglis

Politics + Society Editor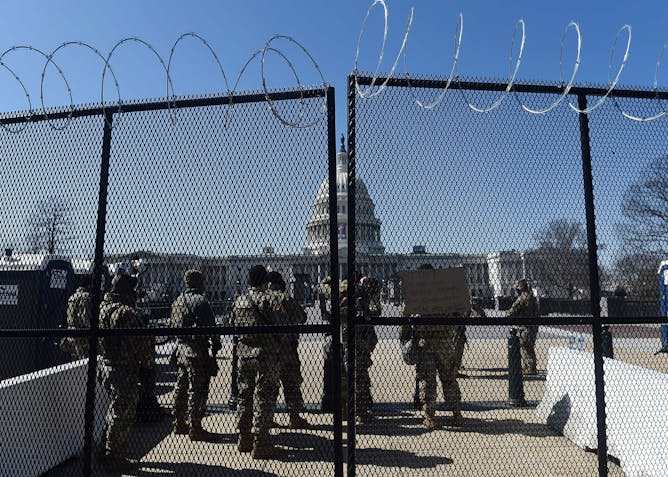 New members are joining and some are leaving – as right-wing groups reorganize, scholars of the movement foresee increased polarization, with a risk of more violence.
Arts + Culture
If you look at the reasons people buy art, almost none of them have to do with the physical work.

Arts organizations have been particularly hard hit, but many may benefit from new sources of emergency government funding.
Politics + Society
Young people in Myanmar have rallied daily since a Feb. 1 coup, demanding democracy. Now, ever more middle-class professionals are backing their cause, offering food, legal advice and moral support.

The U.S. Supreme Court is considering whether a ban on the third-party collection of mail-in ballots is legal. The practice is allowed in 26 states.

Hundreds of Salvadoran women have been prosecuted for homicide for having abortions, miscarriages or stillbirths since 1997. Now an international court must decide: Is that legal?
Science + Technology
Whenever you hear about a new bit of science news, these suggestions will help you assess whether it's more fact or fiction.

Going to the bathroom is much more complicated in space without any gravity. To solve this problem of tricky orbital potty breaks, NASA builds special toilets that work without gravity.
Health
Education
Ethics + Religion
Trending on Site
Religious opposition over a link to abortions performed decades ago and misunderstandings about effectiveness could lead to a nightmare of angry patients and wasted vaccine.

Luck and tenacity paid off for some 15,000 migrants who may now pursue their asylum cases in the U.S. But nearly 42,000 cases filed from Mexico under a Trump-era rule were already rejected.

Today, beer is marketed to men and the industry is run by men. It wasn't always that way.