Governments and researchers across the globe are rushing to develop a treatment that provides immunity to COVID-19. But even if one emerges soon, the growing number of vaccine skeptics could jeopardize its effectiveness. That's because a vaccine is only able to stop the spread of a disease if a large share of the population develops immunity.
Kristin Lunz Trujillo and Matt Motta research what makes some people hesitant to take vaccines. Their new study suggests Americans hoping a vaccine brings a quick end to the pandemic may be disappointed.
Also today: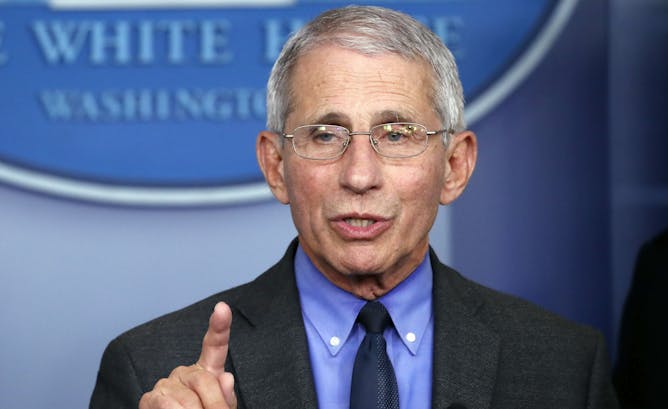 As most of the world awaits a vaccine for COVID-19, a smaller group of people scoffs. They could spell real trouble in the effort to build widespread immunity.
Arts + Culture
Economy + Business
Reopening state economies too soon risks a second wave of the pandemic, and a surge in medical costs. Anyone who pays insurance premiums and taxes will be picking up the tab.

Conducting interviews over Zoom from your own home can add extra anxiety to an already-stressful act.
Education
Science + Technology
Human psychology has evolved to avoid situations that could lead to infection. Behavioral choices now could have long-term effects on how people interact with others and the world.

The movies make it seem like someday we'll be able to make people and objects grow really big or shrink really small. Whether this will be possible comes down to the smallest of things.
Politics + Society
Environment + Energy
After a five-year review, the EPA is leaving US standards for fine particle air pollution unchanged, even though recent studies suggest that tightening them could save thousands of lives yearly.
Most read on site
Researchers at the University of California, San Francisco, identified nine existing drugs that show promise to treat COVID-19. The proteins they target haven't been tried before.

Your body can be infected and fight off SARS-CoV-2 without your ever noticing.

Bluetooth wireless communication makes it possible for people to get alerts on their phones when they've been exposed to the coronavirus. Adding the right cryptography scheme keeps those alerts private.