Devastating as the wildfire on the slopes of South Africa's Table Mountain was this past week, there are lessons that can be learnt about managing fire ignitions and the speed with which the flames spread. Brian van Wilgen and Nicola van Wilgen-Bredenkamp explore what these are as they unpack the factors that drive wildfires. For their part, Alanna Rebelo and Karen Joan Esler explain how the introduction and spread of alien trees on Table Mountain have made the environment even more inflammable. They give pointers on how this can be managed.
Shannon Morreira homes in on the fire damage at the University of Cape Town's Jagger Library and the loss of the rich, historical archives that were housed there. She explains what the implications of losing recorded histories are for a country like South Africa with a fraught and contested past. And finally Andreas Hemp shares his insights on how fires have shaped the natural environment of Africa's tallest mountain, Mount Kilimanjaro.
Nontobeko Mtshali

Education Editor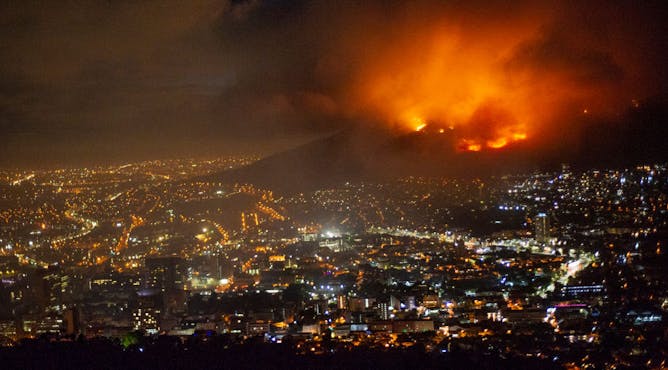 The fynbos vegetation that historically clothed the slopes of Table Mountain is highly inflammable. This has been worsened by the spread of alien trees that burn more intensely than the fynbos.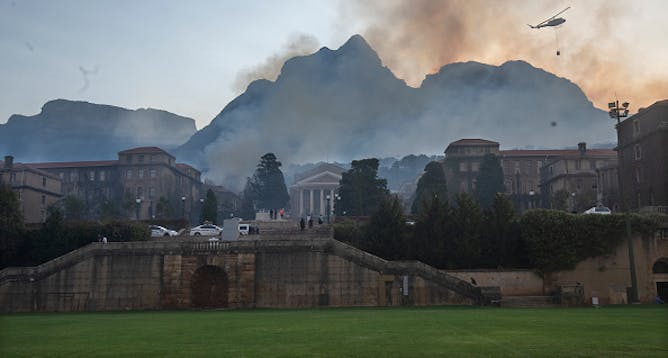 Fire hazards are influenced by three factors: weather, an ignition source and fuel loads. The first two are unpredictable. But fuel loads can be managed.
| | | |
| --- | --- | --- |
| Losing archives has significant implications in a country like South Africa with a fraught and contested history because voices from the past, which may carry alternative histories, are lost. | | There have been several severe fires on Kilimanjaro over the last few decades that have dramatically changed land cover. |
Arts, Culture + Society
| | | |
| --- | --- | --- |
| The 1970s and 1980s saw a new genre of popular protest - its spirit would be felt even in 2011 when protests toppled a dictator. | | Behind the multi-racial composition of the elite European teams competing in the tournament lies a complex and painful history. |
Business + Economy
| | | |
| --- | --- | --- |
| An attempt to prevent fraud in Ghana's burgeoning mobile money sector could be a setback for access to financial services. | | Building business skills to improve livelihoods is increasingly recognised as bringing value to the fight against poverty. But it can also set up identity conflict and community-level tension. |
Health + Medicine
| | | |
| --- | --- | --- |
| Implementing a sugar-sweetened beverage tax in all African countries will require sufficient political will and support from civil society. | | Due to early logistical planning, Rwanda had the capacity to store 5 million doses before the vaccines arrived. |
Politics
| | | |
| --- | --- | --- |
| Apart from tackling terrorism, banditry and kidnappings, Nigeria's new Inspector General of Police must embrace community policing. | | Although polarising, parliament's move to extend Farmaajo's term has presented a practical road-map to hold direct elections for the first time since 1969. |
| On average, countries that adopt ethnic recognition experience less violence, more economic vitality, and more democratic politics. | | When he grabbed power in 1990, Déby promised to create a democratic society, but he turned out to be a ruthless authoritarian whose main agenda was to remain in office. |
Featured events
Would you like to republish any of these articles?
It's free to republish, here are the guidelines. Contact us on africa-republish@theconversation.com in case you need assistance.