President Donald Trump recently ordered federal agents dressed in riot gear and armed with guns, tear gas, flash grenades, pepper balls and batons to Portland, Oregon, ostensibly to protect federal property from protesters who have waged almost two months of demonstrations for racial justice. Both the agents' presence and their violent tactics have sparked four significant lawsuits by state officials and by protesters claiming their constitutional rights have been violated, explains University of Oregon Law School scholar Sarah Adams-Schoen.
Those lawsuits provide a preview of the issues cities across the country will grapple with if Trump, as promised, sends armed federal agents to other communities as well, she writes.
Also today: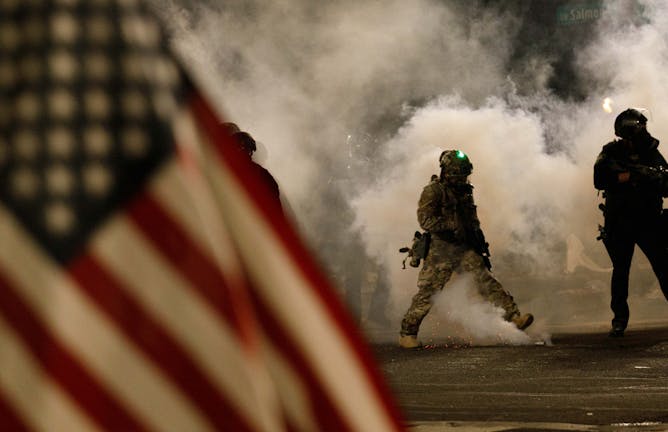 The lawsuits filed in Portland sparked by the presence of federal law enforcement agents sent there by President Trump are a preview of the legal battles to come in cities across the US.
Politics + Society
Despite its progressive image, Minneapolis is one of the most segregated cities in the United States. That is by design not accident, argues an urban planning scholar.
Health + Medicine
Ethics + Religion
A Kentucky museum tells the history of the universe according to the Bible in an effort to debunk evolution. Its owner, the Christian group Answers in Genesis, promotes right-wing political causes.

Millions step into cathedrals and chapels on a regular basis. The history of these places of worship offers important insights into Christianity.
Science + Technology
Online sleuthing and deductive reasoning identifies what appears to be the only existent portrait painted of the celebrated scientist during his lifetime.

EVs will have lower sticker prices than gas vehicles when batteries are cheaper. Getting there comes down to knowing where to cut costs.

A new study estimates that $22 billion to $30 billion dollars per year needs to be spent to maintain forests and reduce the likelihood of a pathogen jumping from wildlife to humans.
Most read on site
Nearly every country in the world shuttered its schools due to COVID-19. Now, from Israel to Uruguay, many students are back in class, with varying degrees of success.

If it weren't for historical and biological happenstance, few would be eating avocados today.

Screening multiple samples with a single test gets more people diagnosed using fewer supplies. Two health policy researchers explain how it works and how it could help the US.