As a journalist who's been covering the pandemic for more months than I care to count, I sometimes get bogged down in the minutiae of the science. I forget that not everyone has been poring through the intricate ins and outs of virology and epidemiology and vaccinology.
So I need to remind myself to listen when my colleagues at The Conversation who aren't on the science desk ask the same simple question over and over. That was the genesis of Vanderbilt vaccine expert Sanjay Mishra's article that publishes today. I turned to him because I knew he would be able to comb through the cutting-edge research and gather some solid numbers to answer the question: What is a breakthrough infection?
Also today: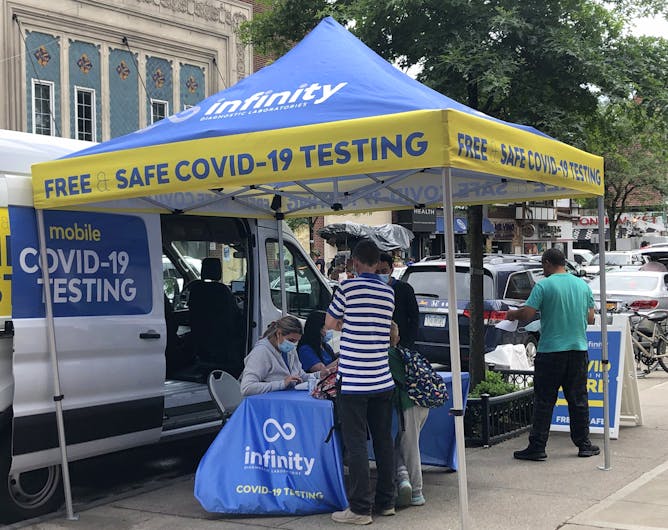 Vaccines can't provide 100% protection, so it's not a failure or surprise when some vaccinated people get sick with COVID-19. The good news is their cases are much less likely to be severe or fatal.
Health
The CDC guidance applies to areas with high coronavirus transmission rates – which on the day of the announcement covered 63% of US counties.

Connecting health apps to health care can enable better care for patients with chronic diseases, and it has the potential to lower skyrocketing US health spending.
Ethics + Religion
Environment + Energy
Healthy corals and mangroves break waves and dissipate their energy. Paired with unobtrusive hardened structures, they can provide powerful storm solutions.

The spotted lanternfly, native to Asia, is spreading fast since arriving in the United States seven years ago. An entomologist explains why this is a big problem.
Politics + Society
Castillo is a farmer and teacher who has never held national office. Peru is a nation in political turmoil, with the world's worst COVID-19 death rate. Can this unlikely leader lead it through crisis?
Education
Economy + Business
Trending on Site
Parents face tough choices since young kids can't yet get COVID-19 vaccinations. An infectious diseases expert offers guidance on navigating summer activities.

New studies show men who have had COVID-19 could face serious reproductive health issues.

Mounting research shows that going for a swim can preserve memories, reduce mood disorders and increase mental acuity in all age groups.

---

Today's graphic