ROADMAP TO FREEDOM UNVEILED FOR THE FULLY VACCINATED
Stay-at-home orders for adults who have received both doses of the COVID-19 vaccine will be lifted from the Monday after NSW passes the 70 per cent double vaccination target, under the roadmap to freedom released yesterday.
The roadmap is subject to further fine-tuning and health advice if circumstances change drastically or if cases within a designated area remain too high.
Premier Gladys Berejiklian said NSW was well on the way to hitting the 70 per cent double dose milestone which would allow the state to open for those who have received both doses of a COVID-19 vaccine.
"I cannot stress enough how important it is for people to get vaccinated – if you have not had both doses of the vaccine by the time we hit the 70 per cent milestone, you will not be able to take advantage of these freedoms," Ms Berejiklian said.
Deputy Premier John Barilaro said the NSW Government had worked with industry to design the roadmap.
"Our roadmap outlines the freedoms that twice vaccinated people will enjoy once we reach 70 per cent double dose which means a meal with loved ones or a drink with friends is just around the corner," Mr Barilaro said.
Only fully vaccinated people and those with medical exemptions will have access to the freedoms allowed under the Reopening NSW roadmap.
The freedoms for vaccinated adults will come into effect on the Monday after NSW hits the 70 per cent double dose target and include:
Gatherings in the home and public spaces:
Up to five visitors will be allowed in a home where all adults are vaccinated (not including children 12 and under)
Up to 20 people can gather in outdoor settings.
Venues including hospitality, retail stores and gyms:
Hospitality venues can reopen subject to one person per 4sqm inside and one person per 2sqm outside, with standing while drinking permitted outside
Retail stores can reopen under the one person per 4sqm rule (unvaccinated people will continue to only be able to access critical retail)
Personal services such as hairdressers and nail salons can open with one person per 4sqm, capped at five clients per premises
Gyms and indoor recreation facilities can open under the one person per 4sqm rule and can offer classes for up to 20 people
Sporting facilities including swimming pools can reopen.
Stadiums, theatres and major outdoor recreation facilities:
Major recreation outdoor facilities including stadiums, racecourses, theme parks and zoos can reopen with one person per 4sqm, capped at 5,000 people
Up to 500 people can attend ticketed and seated outdoor events
Indoor entertainment and information facilities including cinemas, theatres, music halls, museums and galleries can reopen with one person per 4sqm or 75 per cent fixed seated capacity.
Weddings, funerals and places of worship:
Up to 50 guests can attend weddings, with dancing permitted and eating and drinking only while seated
Up to 50 guests can attend funerals, with eating and drinking while seated
Churches and places of worship to open subject to one person per 4sqm rule, with no singing.
Travel:
Domestic travel, including trips to regional NSW, will be permitted
Caravan parks and camping grounds can open
Carpooling will be permitted.
Non-vaccinated young people aged under 16 will be able to access all outdoor settings but will only be able to visit indoor venues with members of their household.
Employers must continue to allow employees to work from home if the employee is able to do so.
There will be revised guidance on isolation for close and casual contacts who are fully vaccinated, with details to be provided closer to the reopening date.
Masks:
Masks will remain mandatory for all indoor public venues, including public transport, front-of-house hospitality, retail and business premises, on planes and at airports
Only hospitality staff will be required to wear a mask when outdoors
Children aged under 12 will not need to wear a mask indoors.
When NSW hits the 80 per cent double dose target, the government intends to open up further freedoms around international travel, community sport, major events and other areas.
Information about current proof of vaccination is available online.
For information about vaccination or to book an appointment, go to NSW.gov.au.
Industry stakeholders have responded positively to the roadmap. Tourism and Transport Forum CEO Margy Osmond said: "Celebrating Christmas with family and friends and taking the annual summer holiday is now a reality. We applaud the NSW Government for sticking to intent of the national strategy to ease covid restrictions once vaccination targets have been met. This will provide a lifeline for our industry which has been losing tens of billions of dollars since COVID-19 emerged."
NSW Tourism Industry Council Executive Manager Greg Binskin said: "The news that restaurants, cafes, pubs, attractions, experiences and public events will be able to operate is a shot in the arm for those frontline businesses facing the consumers and those operating in the diverse supply chain of produce, goods and services that sustain them. Now is the time for business owners to review COVID-19 Safety Plans and get ready to reopen the visitor economy before our peak holiday season begins."
LOCKDOWN LIFTED IN PARTS OF REGIONAL NSW
Meanwhile, parts of regional NSW currently deemed low risk and which have seen zero COVID cases for at least 14 days will emerge from lockdown at 12:01am Saturday 11 September, but will continue to operate under restrictions to ensure the safety of regional communities.
Those parts of regional NSW that will open will be subject to the conditions outlined above (which will apply to all of NSW when the state reaches the target of 70 per cent of the population being double vaccinated).
Local Government Areas still seeing COVID case numbers will continue to follow stay-at-home orders and will be monitored by NSW Health with updates provided as circumstances develop.
Northern border residents will be able to cross the Queensland border from 1am on Monday 13 September for essential work and essential reasons with the reinstatement of the border bubble, following discussions between the NSW and Queensland Governments.
Deputy Premier and Minister for Regional NSW John Barilaro said an agreement to include 12 Local Government Areas (LGAs) in the border bubble was reached following discussions with Queensland Deputy Premier Steven Miles.
The 12 LGAs included in the border bubble are Ballina, Byron Bay, City of Lismore, Clarence Valley, Glen Innes Severn, Gwyndir, Inverell, Kyogle, Moree Plains, Richmond Valley, Tenterfield and Tweed.
Essential work means any work or volunteering that cannot be reasonably done from home and people crossing the border for essential work will need to have had at least one dose of COVID-19 vaccin
Essential work means any work or volunteering that cannot be reasonably done from home and people crossing the border for essential work will need to have had at least one dose of a COVID-19 vaccine. NSW residents are not able to cross the border for recreation or social visits.
For the latest information visit www.nsw.gov.au/covid-19.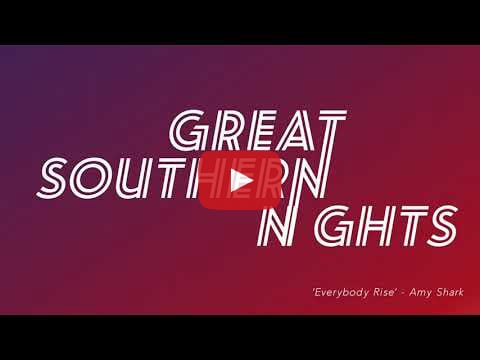 GREAT SOUTHERN NIGHTS RETURNS TO REBOOT LIVE MUSIC IN 2022
The NSW Government is amping up the State's live music scene once again with the return of Great Southern Nights in March and April 2022.
ARIA-award winning indie pop artist Amy Shark and Yolngu rapper Baker Boy join Jessica Mauboy, Jimmy Barnes, Missy Higgins and Peking Duk as the first artists of the line-up, with shows to be held from 18 March to 10 April 2022.
Following its hugely successful debut in 2020, Great Southern Nights will again create jobs and revenue for artists, venues and crew in Sydney and across regional NSW, highlighting the State's rich live music culture.
Minister for Jobs, Investment, Tourism and Western Sydney Stuart Ayres said Great Southern Nights would be welcomed by industry and music lovers alike following another challenging year of COVID-19 restrictions.
"Great Southern Nights celebrates the very essence of live music in Australia – it's about getting artists on stages, gigs in venues, and audiences back enjoying performances by our talented creatives right across the State," Mr Ayres said.
"Last year more than 75,000 tickets were sold for 1100-plus gigs at over 300 venues, and we know the appetite is there to get out and enjoy live music in Sydney and regional NSW which is why we must continue our vaccination efforts in coming weeks and months.
"Great Southern Nights was designed with COVID-safety in mind, supporting shows of all sizes, in all kinds of live music venues, and giving industry a leg up to get back to work.
"The NSW Government has delivered a range of support measures to businesses and individuals to lessen the impact of the latest COVID-19 restrictions, and earlier this year we delivered the $24 million Live Music Support Package to 162 venues demonstrating our commitment to the sector."
Great Southern Nights will feature live music performances from household names, emerging talent and grassroots local acts. It will be delivered by the NSW Government through Destination NSW in partnership with the Australian Recording Industry Association (ARIA).
Amy Shark, who won the ARIA Award for Best Australian Live Act in 2020, said she couldn't wait to get back to touring.
"I'm super excited to be playing as part of Great Southern Nights. Needless to say every artist, every band, every DJ, just everyone is looking forward to playing shows to real life people, so make sure you get behind it," Amy said.
ARIA CEO Annabelle Herd said the ongoing challenges from the pandemic had been very hard for the creative industries, but Great Southern Nights would give everyone something to look forward to.
"Great Southern Nights is about artists and crew doing what they love, and what they do best – putting on a show for an audience that wants to get back to the thrill and emotion of hearing live music," Ms Herd said.
"We look forward to supporting hundreds of artists and venues through the Great Southern Nights program again in 2022 and bringing back the magic of live music to Sydney and regional NSW through our amazing local talent."
Venues can apply to be part of the Great Southern Nights program via the website. For information visit www.greatsouthernnights.com.au.
NEW GUIDES TO BOLSTER NATURAL DISASTER RESILIENCE IN THE TOURISM INDUSTRY
The NSW Government has launched a set of new guides to bolster tourism businesses resilience to bushfires and other natural disasters.
The three guides provide information on how to prepare for, respond to and recover from natural disasters. They have been developed by Destination NSW, in collaboration with Resilience NSW and the NSW Rural Fire Service, in response to recommendations from the NSW Bushfire Inquiry.
Minister for Jobs, Investment, Tourism and Western Sydney Stuart Ayres said the NSW First Quick Tips for Tourism Businesses 'tourism resilience' guides would be an invaluable resource for regional operators.
"The advice in these guides comes from three NSW Government agencies that have extensive knowledge of emergency response, overcoming adversity and the visitor economy," Mr Ayres said.
"Given the complex landscape of managing visitors on site, incoming visitors, staff and suppliers, the guides provide straightforward and practical advice to help tourism businesses keep everyone safe and informed.
"With NSW responding so positively to the call to get vaccinated, we're hopeful for a bumper summer of visitation across the State, so we encourage businesses to use this time now to prepare before guests arrive."
Minister for Police and Emergency Services David Elliott said these guides demonstrated another step taken to address recommendations from the NSW Bushfire Inquiry following the devastating 'Black Summer' of bush fires in 2019-20.
"Bush fires, floods and other extreme weather events are a part of our landscape, particularly in areas where most of us enjoy our holidays.
"Our emergency services stand ready to respond, but individuals, businesses and communities alike have a responsibility to have a clear plan" Mr Elliot said.
To access the guides, go to www.destinationnsw.com.au/NSWFirst.
UPCOMING NSW FIRST WEBINAR – ENGAGE YOUR AUDIENCE ON SOCIAL MEDIA
The next NSW First Facebook and Instagram for Tourism webinar will be held next Wednesday 15 September at 11am.
The topic is how to engage your audience on social media, and will guide tourism businesses in how to craft more creatively engaging content so they stand out on Instagram.
There will also be insights about how Destination NSW uses its social media channels to engage with potential travellers.
Registrations are open – sign up online now.
The first webinar in the five-part series, optimising your Facebook presence, is now available to watch on-demand.
The webinars are delivered under Destination NSW's NSW First Program in partnership with Facebook and Instagram, to help the State's tourism businesses to develop, promote and sell great visitor experiences.
$20 MILLION TO SUPPORT AUSTRALIA'S CREATIVE SECTOR TO RISE
Australia's creative and entertainment sector has received another major boost, with the Commonwealth Government announcing that $20 million would be shared by 63 leading organisations across the country.
This amount represents the fifth batch of grants from the $200 million Restart Investment to Sustain and Expand (RISE) Fund.
Minister for Communications, Urban Infrastructure, Cities and the Arts, the Hon Paul Fletcher MP, said the RISE Fund continued to provide immediate funding to support during an especially difficult period for the sector.
"This latest $20 million of funding is creating a pathway to recovery that will support nearly 23,000 jobs in more than 560 locations, more than half of which are located in regional and remote Australia," Mr Fletcher said.
"The Commonwealth Government's objective, in providing this record level of funding for arts and entertainment, is that as states and territories open up, arts companies, promoters and festivals are ready to go. We want to see venue doors thrown open to audiences; we want to see the curtains going up; and we want to see performers coming on stage to a welcoming roar of applause."
There are 19 NSW recipients among the fifth batch of grants including $2 million for Sculpture by the Sea to deliver its popular exhibitions over the next two years at Bondi and Cottesloe in a COVID-safe way.
The Commonwealth Government has now allocated $160 million of the $200 million RISE Fund, creating more than 167,000 job opportunities and expanding cultural and creative experiences for audiences across Australia.
Find out more about the RISE Fund, and all recipients, online.
BIG NAMES CONTINUE TO ROLL IN FOR 50TH TOYOTA COUNTRY MUSIC FESTIVAL
The 50th anniversary of the Toyota Country Music Festival, Tamworth is shaping up to be the most memorable yet, with more big names set to roll into Australia's country music capital to celebrate the huge milestone.
Among the names added to the 2022 line-up is ARIA Hall of Fame and Roll of Renown Inductee John Williamson, who will celebrate 52 years at the Tamworth Town Hall on January 21, as well as ARIA nominated and APRA Award winner Busby Marou who have teamed up with 4 x Golden Guitar nominee Brad Cox for a double header at the Tamworth Regional Entertainment and Conference Centre on 19 January.
ARIA nominee and Golden Guitar winner Adam Harvey will perform at Blazes Show Room, as well as Tex Dubbo, Casey Barnes, Amber Lawrence, Kirsty Lee Akers, Tania Kernaghan, Gina Jeffreys and the 2019 Golden Guitar Female Artist of the Year, Beccy Cole.
They will all join ARIA Hall of Fame and Roll of Renown inductee, Kasey Chambers and country music luminaries Troy Cassar-Daley and Adam Brand.
Toyota Country Music Festival Manager, Barry Harley said it was exciting and fitting that these accomplished artists were coming back to Tamworth in 2022.
"For many of these artists Tamworth is where it all began. Whether it was busking on Peel Street or performing as part of the festival early in their career, there is a huge connection between country musicians and Tamworth," Mr Harley said.
Minister for Jobs, Investment, Tourism and Western Sydney, Stuart Ayres said: "It's fantastic to see so many iconic Australian artists on the line-up, from John Williamson and Beccy Cole to Kasey Chambers and Troy Cassar-Daley, making this an unmissable event for January 2022," Mr Ayres said.
"With NSW residents responding so positively to the call to get vaccinated, we can optimistically look forward to coming together for major events and welcoming visitors into our communities to the benefit of the local visitor economy."
To purchase tickets, go to the Festival website www.tcmf.com.au.
A FIRST FOR 20 LOCAL COUNCILS JOINING FORCES TO PROTECT SYDNEY HARBOUR
In a first for the State's capital, the NSW Government has awarded $274,000 to support 20 local councils joining forces to protect over 480 square kilometres of Sydney Harbour.
The Greater Sydney Harbour catchment comprises of four smaller catchments including Parramatta River, Lane Cove River, Middle Harbour and the remaining foreshore areas draining into Port Jackson.
Urban stormwater runoff was identified as a key issue in an initial 2018 scoping study, which also recommended further technical studies, as well as a system-wide Coastal Management Program (CMP).
Stormwater occurs when rainwater flows through street gutters managed by councils and picks up pollutants such as litter, garden nutrients, dog droppings and more.
Minister for Local Government Shelley Hancock said 540 tonnes of harmful nutrients entered Sydney Harbour each year, as well as 340,000 tonnes of solids including soil and rubbish.
"The grant funding will help consolidate all urban stormwater data and enable individual councils to develop management actions to be considered in the CMP, in coordination with the management programs of state agencies," Mrs Hancock said.
"Developing a CMP helps local government to understand the complex coastal and estuarine environment, and to plan future actions."
Parliamentary Secretary for the Environment and Member for North Shore Felicity Wilson said: "This crucial forward-thinking planning will ensure the best outcome for our iconic Sydney Harbour. This is the largest collaboration of councils to receive a NSW Government planning grant, and we are excited to see this group work together to improve and strengthen Sydney Harbour."
The $274,000 grant is funded under the NSW Government's Coastal and Estuary Grants Program, which aims to increase the resilience of coastal communities and implement actions to improve the health of the NSW coastlines and estuaries.
TARGETED COVID-19 SUPPORT FOR INTERNATIONAL STUDENTS
The NSW Government is urging international students to come forward and get vaccinated, with a reminder they do not need a Medicare card to receive their free COVID-19 vaccine.
Deputy Premier and Minister for Regional NSW, Industry and Trade John Barilaro this week launched two new measures to make it easier for international students to find the right assistance.
The measures include a purpose-built website where international students can find information about getting vaccinated, and an industry toolkit to assist education providers, agents and community organisations in communicating tailored information about the vaccine.
"There is no denying that this pandemic has been incredibly tough on our international students, who have been cut off from their loved ones and many have lost their jobs, but I want to assure each and every one of you that there is support available," Mr Barilaro said.
"Vaccination will be key to getting back to life as normal. NSW is proudly home to 110,000 international students and our message to them is clear, the NSW Government is here to support you."
The NSW Government is also continuing its partnership with Foodbank NSW & ACT to provide thousands of emergency food hampers to international students in NSW, a program that began in August 2020 and has continued throughout the current outbreak.
Foodbank NSW & ACT Chief Executive Officer John Robertson said the initiative has received an overwhelming response since it commenced in August 2020.
"To date we've distributed 48,443 hampers to vulnerable students, starting the initiative as a pick-up model (across Universities, TAFE Colleges and other academic institutions) but pivoting to a home-delivery model in the lockdown," Mr Robertson said.
For more information about the support available to international students, visit Sydney Community Forum.
LOOK AFTER YOUR MENTAL HEALTH DURING LOCKDOWN
Minister for Mental Health, Bronnie Taylor, NSW Chief Psychiatrist, Dr Murray Wright and Chairman of Lifeline Australia, John Brogden have called on the community to be aware of their own mental health and that of their family and loved ones while the COVID-19 restrictions remain in place.
Mrs Taylor said this can be an incredibly stressful time for families, parents and children.
"Look out for your family and friends, check in with them and see how they're doing and, most importantly, reach out for help when you need it," she said.
"There are services available 24 hours a day, 7 days a week. Anyone in crisis can reach out at any time of day to get the help they need."
Dr Murray Wright explained that the message of hope is extremely important during this challenging time.
"It's a message that's been lost in much of the recent coverage, but we need to reassure ourselves that the current situation is temporary. It will end, especially as our vaccination coverage increases," Dr Wright said.
With Lifeline taking a record number of calls, Chair of Lifeline Australia John Brogden said it was more important than ever for people to continue to reach out for help when they need it.
"The silver lining to this unprecedented demand is that people who need help are reaching out – many for the first time," Mr Brogden said.
"Just as we're all doing our bit to protect everyone's physical health, it is critical we also look after our mental health. The NSW Government has made mental health a priority and it is helping keep our volunteers on the phones and saving lives."
In July, a $17.35 million joint package with the Commonwealth Government was announced to support people in lockdown and isolation. This funding is in addition to the record $10.9 billion over the next four years in mental health funding announced in the 2021-22 Budget.
If life is in danger, dial 000 (Triple Zero) immediately. For crisis support, call Lifeline 13 11 14 or Kids Helpline on 1800 55 1800. For mental health advice, call Beyond Blue on 1800 512 348. To connect with specialist mental health services, call the NSW Mental Health Line on 1800 011 511.
NEW VIDEO WITH FIRST RESPONDERS RELEASED FOR RURAL ROAD SAFETY MONTH
The NSW Government is appealing for drivers in regional NSW to take extra care this Rural Road Safety Month, as a confronting new video is released, showing the tragic impacts of a horror crash near Dubbo.
Minister for Regional Transport and Roads Paul Toole said he hoped the video would remind everyone to take road safety seriously – and that the decisions people make behind the wheel can have fatal consequences.
"The video shows the aftermath of a seven-vehicle crash at road works on the Newell Highway, north of Dubbo in January 2018, where two young people – 21-year-old Reagan Skinner and 19-year-old Hannah Ferguson, tragically lost their lives," Mr Toole said.
"It also includes interviews with workers who witnessed the crash and a NSW Police Officer who was one of the first responders. Their stories drive home how one moment can change the lives of so many in an instant."
"Although COVID-19 means we are seeing fewer people on the roads, now is not the time to be complacent. It's my hope that this video will remind all road users to think about how their driving behaviour can help keep everyone on the road safe.
"Before you get behind the wheel, stop and think about what you can do to make sure you arrive at your destination safely – slow down, make sure you're well rested and never drive if affected by drugs or alcohol."
So far this year, 184 people have died on NSW roads – 127 of those on country roads.
The NSW Government is investing $640 million over four years as part of the Saving Lives on Country Roads Initiative to upgrade roads throughout regional NSW.
So far, 183 projects were delivered in 2020-21 and work is currently underway on 132 new and continuing road safety infrastructure projects right across the state. This includes $47.6 million on the New England Highway between Willow Tree and Uralla and $37.5 million on the Olympic Highway for safety measures such as wide centre lines, life-saving flexible barriers, rumble strips and other safety devices.
Rural Road Safety Month is an initiative of the Australian Road Safety Foundation.
SAVING AUSTRALIAN FAUNA FROM EXTINCTION IN NSW NATIONAL PARKS
Environment Minister Matt Kean has announced that, after being absent for over half a century, the platypus was set to make its return to The Royal National Park south of Sydney. Mr Kean said: "The platypus is seen nowhere else on the planet and like so many of our other precious native species, its future is uncertain. Unfortunately, we have some of the worst extinctions rates anywhere in the world and we have to make sure the platypus never makes that list. I am so excited for this partnership which will bring together some of our best minds from UNSW, the World Wild Fund for Nature-Australia (WWF), Taronga Conservation Society Australia and the NSW National Parks and Wildlife Service (NPWS) to ensure the platypus' future." NPWS will also be investing in public viewing infrastructure once the initial population is established. Meanwhile, 221 NSW sites will be declared Assets of Intergenerational Significance (AIS) and subject to targets of zero extinctions of species on the NSW National Park estate. The NSW NPWS Threatened Species Framework and AIS sites will protect 92 endangered species. Find out more at NSW NPWS.
FREE HELP TO ENCOURAGE SHOPPERS TO BUY LOCALLY
The Commonwealth Government-funded GO LOCAL FIRST campaign is offering small businesses practical support to encourage consumers to buy in their local area and support local businesses and jobs as the economy emerges from COVID-19. The campaign is supported by the NSW Small Business Commission. GO LOCAL FIRST offers business groups free marketing material and other collateral, which can be customised for a particular group of local businesses, including advice on setting up a local campaign, social media tiles, ideas for local events and access to well-designed stickers and posters. GO LOCAL FIRST champion Pru Goward said the national campaign was designed to raise awareness of the importance of saving small local businesses and retaining local jobs. "Small businesses need to be front and centre of consumer decisions about spending, to encourage people to buy locally wherever possible," Ms Goward. GO LOCAL FIRST ran successfully in 2020 for 6 months and will now run in its second phase until May 2022. Visit GO LOCAL FIRST to find out more and join the campaign.
APPLICATIONS OPEN FOR NSW DISABILITY COUNCIL
Passionate advocates and community leaders can apply for positions on the NSW Disability Council, an independent advisory body set up to help shape more inclusive and accessible communities. Minister for Families, Communities and Disability Services Alister Henskens said the Council played an important role in advising the NSW Government on issues that affect people with disability. "We're working hard to create a more inclusive and accessible NSW and the Disability Council plays an important role in helping our Government do that by representing the views and opinions of people with disability across the state," Mr Henskens said. The 12-person Disability Council was established under the Disability Inclusion Act 2014 and performs several key functions, including monitoring the implementation of government policy, advising the Minister on emerging issues relating to people with disability, promoting Disability Inclusion Action Plans, consulting with people with disability and relevant councils and bodies, and conducting research about matters relating to people with disability. Applications are open until Sunday 19 September.