Mention "scorecard" and my mind would probably turn to ballroom dancing or perhaps boxing. But not today. For it isn't only pugilists and polka practitioners who have to wait for a (hopefully) neutral arbiter to deliver the right figures – politicians sometimes have to, as well.
Which brings me to the Congressional Budget Office, which has pledged to get its full "score" of President Biden's Build Back Better legislation to Congress by Friday in a report that will analyze the proposal's impact on revenue and spending. A lot depends on what the CBO says about how well the bill balances the books. A group of five Democrats have delayed voting on the US$1.75 trillion social spending bill until the CBO's full verdict.
Philip Rocco at Marquette University explains how fiscal scorekeepers got to be so powerful in the halls of Congress, and how their reports have often been used for partisan reasons. He quotes Senator Chuck Grassley's astute observation: "CBO is God around here … because policy lives and dies by CBO's word."
Also today:
Matt Williams

Breaking News Editor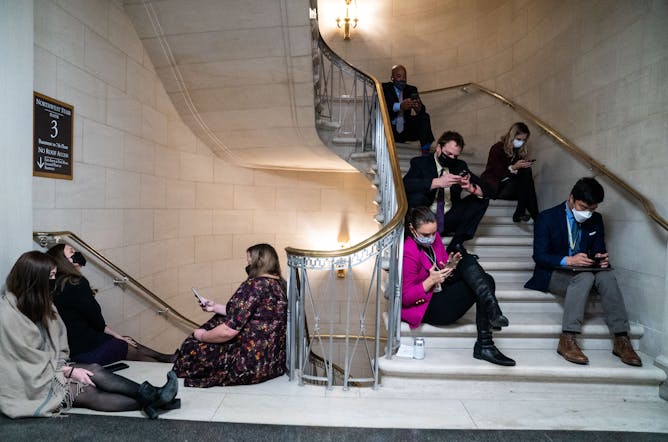 Five Democrats are refusing to vote on a signature bill until the Congressional Budget Office delivers its full cost estimate. For a small agency, the CBO can hold a lot of legislative sway.
Science + Technology
Politics + Society
Alex Jones lost a defamation suit by Sandy Hook parents for falsely claiming they helped fake the murders of their children. But the judgment doesn't deal with important First Amendment questions.

Police body-worn cameras increase disciplinary action against officers and reduce racial bias against citizen complainants, according to a recent study.

The decline of the news industry has been well documented. How did news organizations in the US heartland, facing potential extinction, survive – and even thrive – through the pandemic?
Education
Environment + Energy
Economy + Business
As President Biden signs the bipartisan infrastructure bill, it's important to determine which road, freight and information networks are the most vital to protect.
Health
The pandemic brought about a sharp rise in mental health concerns, deep unemployment and an unprecedented amount of social isolation – a potentially deadly combination alongside rising gun sales.

A new study looked at advertising and purchase data for children's drinks and suggests that ads and pricing strategies contribute to sweetened children's drink purchases.
From our international editions