High rates of death among blacks with COVID-19 may shock many of us, but the news isn't a surprise to scholars like Grace Noppert who study how money – or lack of it – affects health.
Noppert, a social and infectious disease epidemiologist at the University of North Carolina, has been studying the effects of poverty on the health of blacks, Hispanics and immigrants for years. She writes that "centuries of segregation and discrimination" have placed people of color in communities without access to health care and resulted in lower-paying jobs, stress and higher incidence of disease.
Also today: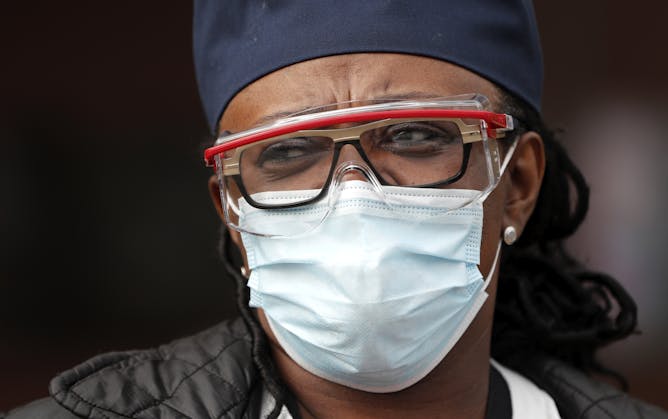 Blacks are dying at higher rates from COVID than whites, showing yet another example of gaps in outcomes between blacks and other groups. The cause is more sociological than biological.
Politics + Society
Bernie Sanders is the antithesis of a political showman who says one thing today, another tomorrow. Perhaps, in the end, that was his undoing.

When a government's health messaging during a crisis is inconsistent or unrealistic, it engenders the kind of confusion, misinformation and non-cooperation seen in the US and UK.
Health + Medicine
Asthma rescue inhalers are in short supply, and asthma sufferers are worried about the risks they face from COVID-19. A doctor answers six key questions.

An expert on forensic science explains the critical role of coroners and pathologists in the COVID-19 crisis, as many cities struggle to manage the soaring number of dead bodies.

A community effort is creating do-it-yourself hand-washing stations for the homeless population in Los Angeles.
Economy + Business
Ethics + Religion
Arts + Culture
Most Read on Site
Officially, not that many people have recovered from the coronavirus. An epidemiologist explains what has to happen for a COVID-19 survivor to get a clean bill of health.

University of Pittsburgh researchers are developing a vaccine patch for COVID-19 that is as easy to apply as a Band-Aid.

Schools are closed, houses of worship have suspended services, and many restaurants are down to delivery only. Must we also stop exercising? Two exercise physiologists explain what's safe.