As the summer season winds down, you might be thinking about getting in those last trips to the beach. When you go, take a fresh look at the sandcastles your fellow beachgoers have constructed. Are some of them washed out lumps of wet sand at the waters edge? Are some dried out piles of sand slowly blowing away in the wind? Do some of them have beautifully smooth surfaces and sharp edges?
You probably figured out as a young child as I did that building sandcastles requires sand that's wet but not too wet. But have you thought about why it is that any amount of water can turn sand into the stuff of miniature turrets, parapets and castle gates?
Colorado State University geotechnical engineer Joseph Scalia explains the fascinating science that allows sand and water to become the moldable medium beachside builders have relied on for centuries.
Also today:
Eric Smalley

Science + Technology Editor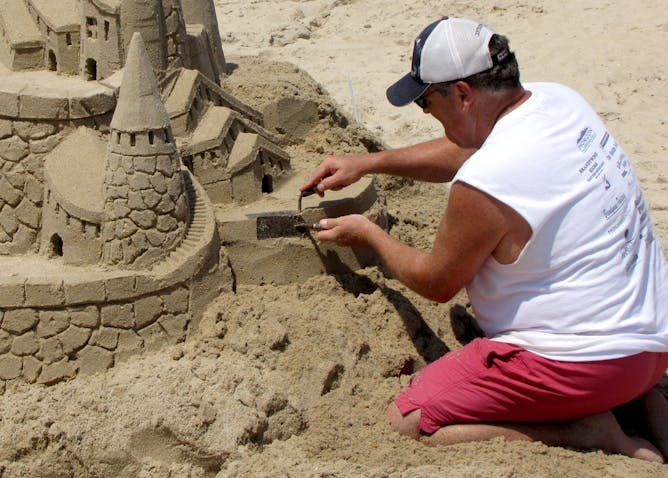 From capillary forces to sand grain shape, the simple mix of sand and water hides the of complexity within.
Politics + Society
Ukraine is partnering with an advertising company to produce an innovative nation branding campaign during a war. The campaign could have influence beyond how Ukraine and Russia conduct this war.

A scholar of humanitarianism sums up what she saw on the ground during a five-week research trip to Poznań, Lublin, Warsaw, Krakow and several smaller cities along the Poland-Ukraine border.
Environment + Energy
PFAS can be filtered, but getting rid of the chemicals is a monumental challenge. A new breakthrough offers some hope.

To put the $370 billion in subsidies to work, the US needs to build new infrastructure and manage a lot of regulatory hurdles.
Education
Ethics + Religion
Health + Medicine
Economy + Business
From our international editions