Ever since its arrival, COVID-19 has had an uncanny way of expanding our lexicon.
In March 2020, the word "pandemic" became a household name. Then in fall 2021, we were introduced to the term "twindemic," which referred to the dual threat of a severe flu season combined with a winter surge of COVID-19 infections. Now, we're learning about the "triple threat," which describes the onslaught of three respiratory illnesses – RSV, the seasonal flu and COVID-19 – that are filling emergency rooms across the country.
These viruses present a threat to everyone, but infants and young children are currently at the greatest risk, write epidemiologists Rebecca S.B. Fischer, of Texas A&M University, and Annette Regan, from the University of San Francisco. They explain why the sheer number of respiratory infections – which are spreading much earlier than usual in the flu season – has health officials concerned that the situation could grow worse this winter. But they also point to the prevention strategies, including vaccines, that can help people keep themselves and their communities safe.
Also today:
If you value our work in providing you, your neighbors and the public with trustworthy health information, we hope you will support The Conversation. Thank you.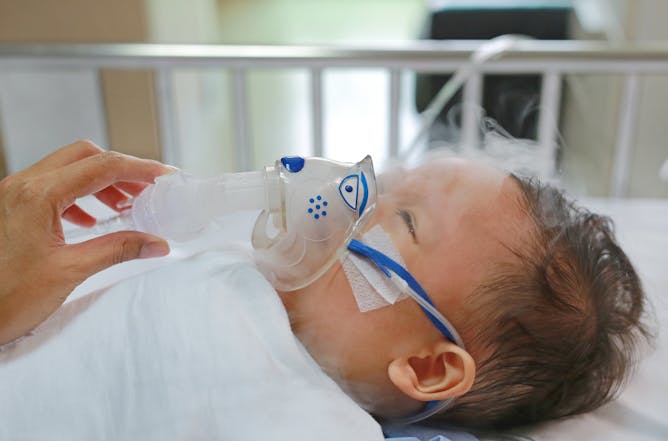 Respiratory viruses are hitting young children and infants particularly hard this fall and winter season, and experts don't yet know exactly why.
Science + Technology
Adidas releases a new ball for every World Cup. At the highest level of play, a ball that behaves in unexpected ways can throw players off. A sports physicist explains the science of this year's ball.
Arts + Culture
Economy + Business
Health + Medicine
Men, older adults, people with language barriers and racial and ethnic minorities are less likely to be screened for depression.
Environment + Energy
The Conversation Quiz 🧠
Here's the first question of this week's edition:

"Black Panther: Wakanda Forever" celebrates the cultures of ____ in its depiction of the fictional kingdom Talokan.

A. Easter Island
B. Catalhoyuk
C. Mesoamerica
D. Antarctica
From our international editions