With Earth Day coming up on Saturday, The Conversation has been exploring some of the profound changes underway as the planet warms, from threats to sea life when El Niño arrives on top of record high ocean temperatures, to the growing flood risk from extreme storms. Today, we're looking to the mountains and the rising risk of wildfires.
The high mountains of the western U.S. have long been considered too wet to burn – firefighters could count on the flames quickly dying out. But that's changing. In a new study, climate scientists and engineers Mohammad Reza Alizadeh of MIT and Mojtaba Sadegh of Boise State University show how fire danger is rising fast in the high mountains, with harmful effects on ecosystems and the millions of people living downstream.
Also today:
Stacy Morford

Environment + Climate Editor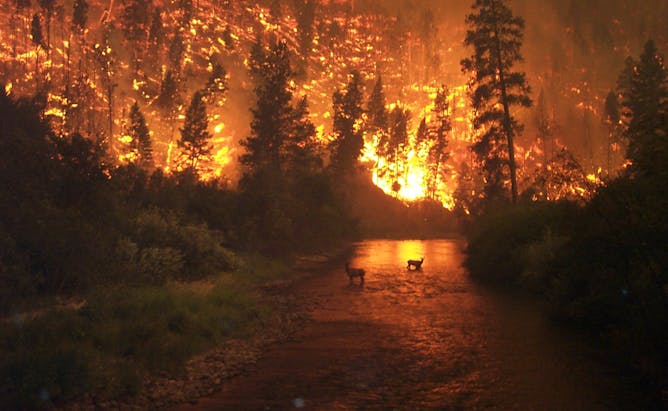 Fires here can affect meltwater timing and water quality, worsen erosion that triggers mudslides, and much more, as two scientists explain.
Health + Medicine
Politics + Society
The South China Sea is of strategic and economic importance to Beijing and the US, setting up a potential power struggle that could spark conflict.

Political situations in both Israel and the US could be changing prior patterns with these donations, which fund hospitals, museums and a wide array of organizations.

We often talk about the American political landscape as if it were a line – Democrats on the left, Republicans on the right. Two political scientists say that view doesn't reflect reality.
Economy + Business
Science + Technology
Preventive and therapeutic vaccines both train the immune system to fight disease, but they are used in different ways.

Generative AI can seem like magic, which makes it both enticing and frightening. Scholars are helping society come to grips with the potential benefits and harms.

Chemist David Liu explains how gene editing is paving the way to treating and even curing certain genetic diseases.
Ethics + Religion