When Ludwig von Beethoven died in 1827, he left behind some musical sketches for a symphony he was never able to complete. Ever since then, Beethoven fans and musicologists have lamented what could have been.
In 2019, computer scientist Ahmed Elgammal, who works at the intersection of art and AI, was approached by Dr. Matthias Röder, the director of a music technology institute in Germany. Röder wondered whether Elgammal would be able to use machine learning to faithfully realize Beethoven's vision.
Until then, the most AI had done was generate a short piece of music in the style of Bach. Elgammal details how a crack team of musicologists and computer scientists came together and, over the course of two years, painstakingly taught a machine Beethoven's oeuvre and methods. Now, what might have been Beethoven's 10th symphony is ready to be performed for the world.
Also today:
Nick Lehr

Arts + Culture Editor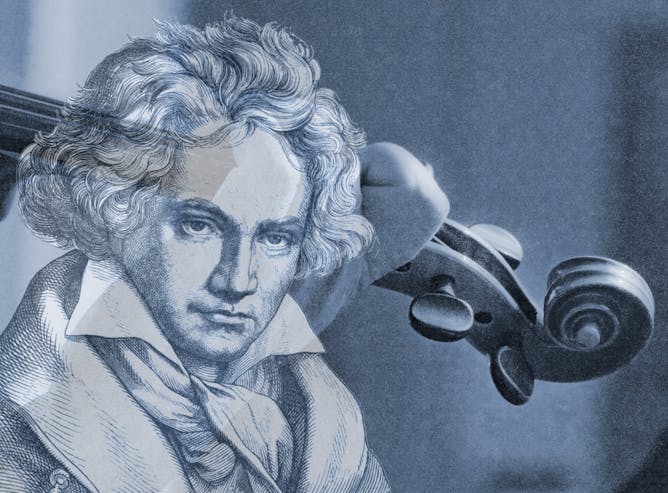 When Beethoven died, all he left behind were some sketches for his 10th Symphony. Now, thanks to the help of artificial intelligence, the composer's vision is coming to life.
Economy + Business
While surveys have shown a large share of unvaccinated workers threatening to quit over a mandate, the reality is few actually do.

Food insufficiency rates rose across the board, researchers who analyzed government data found.
Ethics + Religion
Arts + Culture
Education
Science + Technology
Politics + Society
Environment + Energy
Building even more power poles and transmission lines won't avert outages when major disasters strike.

HFCs keep refrigerators cool, but when these short-lived climate pollutants leak, they warm the planet.
Health
Podcast 🎙️
From our International Editions
Support for Alternative for Germany continues in the former East Germany in particular. It's worth really asking why.

Storytelling can be a powerful tool to communicate complicated crises like climate change. Telling relatable and local stories can help motivate people to action.

It's more evidence a lab leak is very unlikely.
The Conversation Quiz 🧠
As of September 2021, how many known near-Earth asteroids are there?

A. More than 7,000
B. More than 11,000
C. More than 26,000
D. More than 42,000