Each morning I wake to more devastating news from India, where I grew up and spent my early career as a health reporter. As the second wave of COVID-19 surged, India's weak health infrastructure crumbled – leaving some people waiting outside overcrowded hospitals, gasping for oxygen and pleading for a bed. In my daily calls, I hear more names of friends, relations and familiar people who have died. Bodies line up outside crematoriums and cemeteries, with no place to accommodate them.
Texas State University's Natasha Mikles, who studies how the dead are prepared for their final journey in Asian societies, writes how this "unprecedented cultural cataclysm" has forced people in India to change some age-old death rituals.
Also today: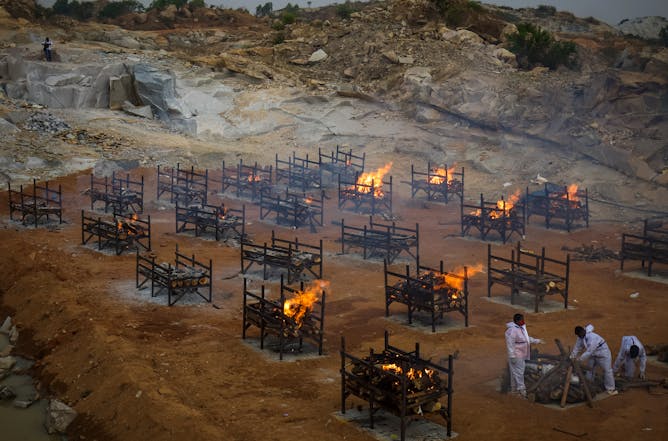 As cremation grounds struggle to keep up with the long line of people dying from COVID-19, age-old customs are being pushed aside.
Health
The CDC first paused, then unpaused, the administration of the Johnson & Johnson COVID-19 vaccine due to concerns about blood clots. But what are those clots, and how do they form?

Puberty-suppression therapy gives trans teens the gift of time and the ability to attain a more desirable appearance.
Environment + Energy
President Biden has proposed spending $45 billion to replace every lead water pipe and service line in the nation. A public health expert explains why he sees this as a worthwhile investment.

HFCs keep refrigerators cool, but when these short-lived climate pollutants leak, they warm the planet. The US EPA has a plan to phase them out, but what will replace them?
Politics + Society
Police officers who kill, injure or violate the rights of citizens are often not held accountable, even in civil court – because in most cases, they can't be sued for official acts.
Education
From our International Editions
The deep-rooted issues at the heart of the current crisis.

A wealth of online videos show dogs that, with the help of a keyboard, seem to be able to communicate with their masters. But does it really mean that dogs can "talk"?

It appears that the South African Cape south coast's dunes and beaches formed a vast canvas of sand on which our ancestors could leave their mark.

---

Today's graphic