Editor's note
Social distancing has become a mantra as society confronts the coronavirus pandemic, but social distancing isn't an option for health care workers and first responders. Not everything medical workers do has to be hands-on, however. Robots are increasingly handling many routine hospital tasks, from delivering meals to sterilizing rooms. It's a case of automation reducing drudgery and limiting danger.
Texas A&M roboticist Robin Murphy and her colleagues have catalogued two dozen ways robots are being used around the world to respond to the pandemic, in hospitals and beyond.
Also today:
Eric Smalley

Science and Technology Editor
Top story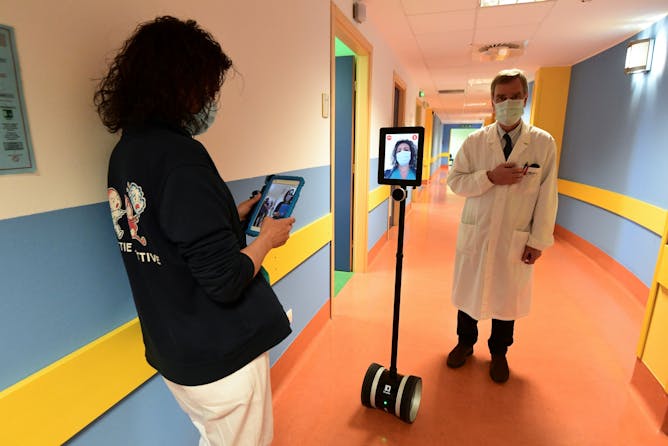 Robots are helping health care workers and public safety officials more safely and quickly treat coronavirus patients and contain the pandemic. They have something in common: They're tried and tested.
Economy + Business
Health
While COVID-19 raises the risk for people with underlying medical conditions such as diabetes, high blood pressure and COPD, social distancing can make it harder to keep up diets and medication.

Without massive change, the US health care system will continue to be disorganized and inefficient.
Science + Technology
What does high blood sugar have to do with vulnerability to COVID-19? And is there a role for the controversial drug hydroxychloroquine in lowering blood sugar in COVID-19 patients?

Together the social and emotional 'jobs' of adolescence – developing intimate friendships and achieving autonomy – make teens uniquely resistant to calls for social distancing.
Education
Before you nag your college-age child to pull their own weight, consider the circumstances they face during the COVID-19 pandemic, advises the author of a book on college students.
Politics + Society
Brazilian President Jair Bolsonaro has been called the South American version of Donald Trump. His behaviour during the coronavirus pandemic shows why.

As Armenian Genocide Remembrance Day is marked around the globe, a historian examines the little-known players in the long-running fight in the US Congress to pass a bill acknowledging the Genocide.
Ethics + Religion
Environment + Energy
Climate change is making extreme weather events, both hot and cold, more frequent across the Great Lakes region. Weatherizing low-income residents' homes is an important way to prepare.
Arts + Culture
Most read on site
Then – as now – the wealthy fled to the countryside, while the urban poor were forced to work on the front lines.

When the 1918 influenza pandemic struck India, the death toll was highest among the poor.

At-home mask makers should carefully consider fit and fabric variables when designing face coverings to help prevent transmission of SARS-CoV-2.