Physicians around the world are taking note of COVID-19 patients who have lost their sense of smell, known as anosmia, or taste, known as ageusia, write Steven Munger and Jeb Justice, University of Florida chemosensory researchers who study these disorders. While it's too soon to know for sure whether losing your ability to smell or taste things is in fact a symptom of this new disease, Munger and Justice offer some insight on what to do if that happens to you.
Also today: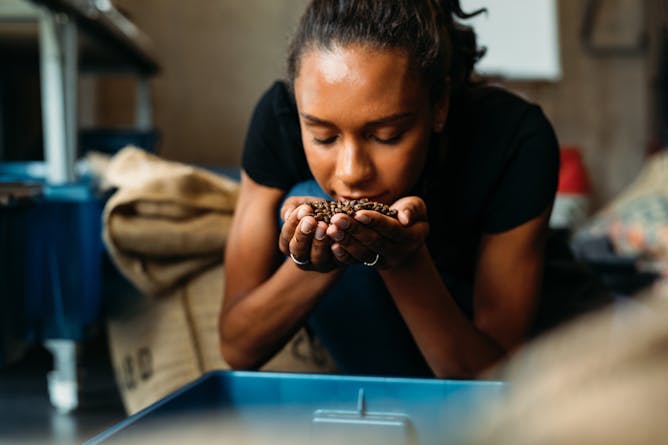 Patients who later test positive for COVID-19 are reporting early loss of smell and taste. Researchers are now trying to understand if this could be an early sign of the disease.
Economy + Business
Mass unemployment will make it a lot harder for tens of millions of Americans already struggling to pay for housing to keep their roof over their heads.

The food aid program helps low-income families put food on the table and injects money straight into struggling local economies. It will be critical throughout the crisis the coronavirus is stoking.
Health
Nursing homes in the U.S. are not ready to care for coronavirus patients. Things need to change -- fast.

As the COVID-19 pandemic spreads, pregnant women are facing new health risks and a health care system that's changing around them by the day.
Science + Technology
A global pandemic is anxiety-provoking for most people. But modifying the way you perceive the situation can set you up to deal with it more effectively.

A strong mind was key to surviving the monotony faced by Antarctic explorers enduring the isolation of long, remote winters.

Facebook, Google and Twitter are stepping up to block misinformation and promote accurate information about the coronavirus. Their track records on self-policing are poor. The results so far are mixed.
Ethics + Religion
In the late second century, some Christian groups in Rome began directing financial aid toward people living in another city, who were going through a crisis. That act of giving has lessons for today.
Most read on site
A medicinal chemist addresses questions about chloroquine and hydroxychloroquine: what it is, whether it is effective against COVID-19 and whether it can treat and/or prevent this disease.

The coronavirus found dangerously fertile ground in elements of the country's demographics, business, geography and culture.

Without government intervention, three experts warn, HBCUs will have a difficult time bouncing back from the effects of the COVID-19 outbreak.