When does a protest become an act of religious expression? For many Indigenous environmental activists, protest in itself is a spiritual act – they see themselves as protectors of sacred land. Demonstrations, such as a recent gathering against the building of a pipeline on traditional Ojibwe land in northern Minnesota, incorporate prayer and rituals to sanctify natural places, such as land and rivers.
This is important when looking at the wave of anti-protest laws put in place by more than 30 states in recent years, environment studies professor Rosalyn LaPier argues. With increased jail time and punitive fines for activists engaged in civil disobedience, such legislation has "the potential to infringe on the First Amendment right of religious freedom…because Indigenous protests often transform places of protest into places of religious practice and even pilgrimage."
Also today:
Matt Williams

Religion & Ethics Editor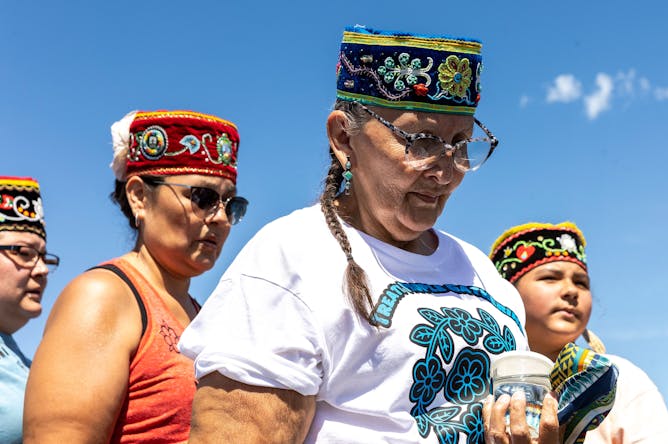 Native Americans have long struggled to practice their spiritual rituals and protect their landscapes. Crackdowns on Indigenous protests could further erode the free exercise of their religions.
Politics + Society
Economy + Business
Newer measures of poverty may do a better job of counting America's poor, which is necessary to helping them.

There are five basic things to address while starting your own company: Need, idea, product, setup and market.
Education
Science + Technology
Health
Arts + Culture
It's easy to assume that the practice has few, if any, downsides. But a new study explored some of its social repercussions.

After enduring decades of exploitation at the hands of the French, Haiti somehow ended up paying reparations – to the tune of nearly $30 billion in today's money.
Trending on site
Research suggests that reminding Americans – Democrats and Republicans – of their family history creates empathy for immigrants and more favorable views toward immigration.

Former President Trump is asking the courts to do what tycoon Trump once would have denounced: tell some of America's most powerful corporations that they have no choice who they do business with.

Celebrities and businesses have drawn criticism for cultural appropriation. An expert provides guidance on when it is sharing another culture out of appreciation and when it is appropriation.

---

Today's graphic