It wasn't too long ago that Big Business and the GOP seemed inseparable. Companies contributed generously to Republican war chests and in return got lighter regulation and the lowest tax bills in almost a century. But ever since Georgia passed its controversial voter law in March, the two bedfellows almost seem to be at war.
The rift between corporate America and the Republican Party has actually been growing for some time, writes M.K. Chin, who studies how the values of corporate bosses affect their decisions. To understand why companies are increasingly taking stands on hot-button social issues, he suggests looking a little closer at three key groups: CEOs, workers and the public.
Also today:
Bryan Keogh

Senior Editor, Economy + Business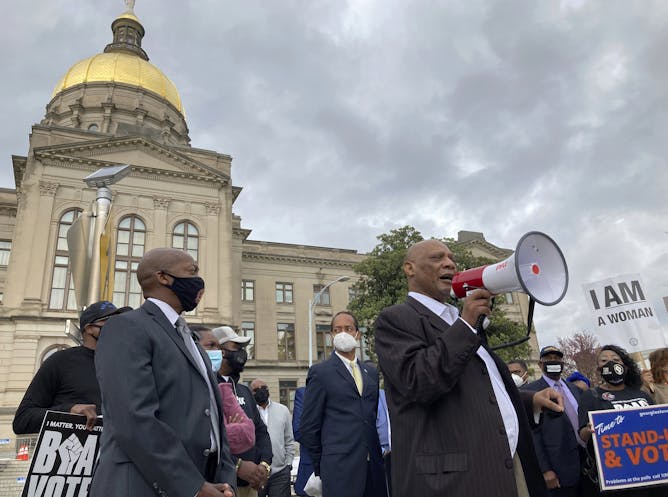 The growing rift between Republicans and US businesses has widened in recent weeks over efforts to restrict voting across the country.
Politics + Society
How does pretrial publicity affect jury verdicts? What kind of verdicts are made when the jury is racially diverse? An expert on juries answers questions raised in the wake of the Chauvin verdicts.

Biden's $4 billion plan to fight crime, corruption and poverty in Central America is massive. But aid can't build viable democracies if 'predatory elites' won't help their own people.
Health
If kidneys could talk, they'd tell you not to overdo the water rule you hear all the time. But since they can't talk, they do send signals to your body that enough is enough.
Science + Technology
Researchers have grown the first human-monkey hybrid embryos as well as mouse embryos in artificial wombs late into development. These biomedical breakthroughs raise different ethical quandaries.

Rather than distinctly male or female, the human brain is much more like the heart, kidneys and lungs – basically the same no matter the sex of the body it's in.
Education
Ethics + Religion
Scholars have scoured the works of the great playwright for clues in his faith. A scholar of theology and Shakespeare's works says it isn't as simple as that.

A scholar of Greek literature writes why we need to turn to the past to understand the present – and the lessons that Homer's hero, Odysseus, holds for us.
Trending on site
It's normal for different people to mount stronger or weaker immune responses to a vaccine, but post-shot side effects won't tell you which you are.

Scholars of policing, law, race and Minnesota history explain the landmark guilty verdicts handed down in the trial for the murder of George Floyd.

Although many modern people tend to see 'magic' and 'religion' as separate, magic was actually integral to the development of Christianity.

---

Today's graphic