Puerto Rico has a larger population, about 3.2 million people, than many U.S. states. But it's hard to imagine, say, Vermont or Idaho struggling to restore its electric grid five years after a major disaster. That was the situation in Puerto Rico when Hurricane Fiona struck this week, almost five years to the day after Hurricane Maria devastated the island in 2017. Now many residents are in the dark again.
Why has this popular tourist destination struggled so much to meet its people's basic needs? Social scientists Carlos A. Suárez and Fernando Tormos-Aponte point to multiple factors that have hindered Puerto Rico's recovery from Maria – and some reason for hope from the Biden administration.
Also today:
Jennifer Weeks

Senior Environment + Energy Editor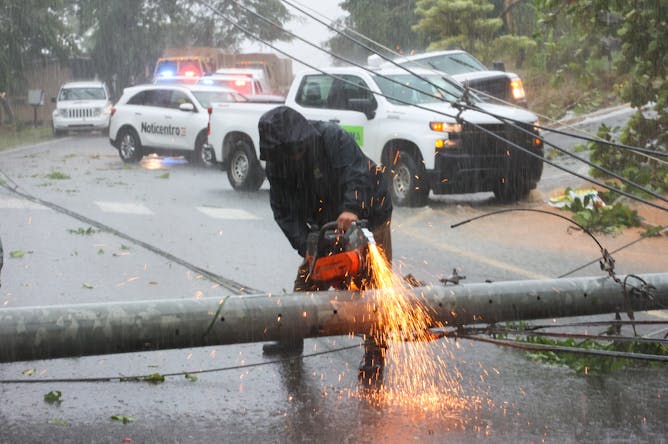 Hurricane Fiona will set back efforts to restore Puerto Rico that date back five years to Hurricane Maria. Two scholars explain how the island's weak institutions worsen the impacts of disasters.
Health + Medicine
President Joe Biden's suggestion that the COVID-19 pandemic is over has led to a backlash among some experts who suggest the comment is premature – and counterproductive.

Pandemic-related policies made it easier for states to afford to cover more people and made that coverage more stable for millions of Americans who rely on the program for health care.

With poliovirus circulating in New York, health authorities worry that pockets of the county with low polio vaccination rates could give the virus a foothold.
Politics + Society
A formal legal investigation would be needed to determine whether the Florida governor and associates violated human trafficking or other laws.

Vladimir Putin's televised address to the Russian people is a desperate attempt to raise the stakes over the war in Ukraine.
Economy + Business
A new study shows what it would mean for Europe and China, and why the US might not be too excited about the idea.

The Fed's policies are contributing to higher prices and growing recession risks around the world, yet there are good reasons why the US central bank has to keep its focus domestic.
Ethics + Religion
Christianity is the second-largest religion in Kazakhstan, with 26% of the population practicing the faith. But many Christians, especially in the smaller denominations, have experienced persecution.

A professor of counseling explains how to find therapists and support communities that can help work through these unique challenges.
Science + Technology
Education