Most of us can't afford to own beachfront property, but in principle we all have the right to walk along some portion of the beach in virtually every U.S. state with a coast. As University of Florida law professor Thomas Ankersen explains, property owners' control typically stops at the high tide line.
In practice, though, owners often want to keep the public off their property, and this can lead to legal battles. Or they may install sea walls to reduce erosion, blocking public access in the process. As rising seas eat away at beaches, it's small wonder that the water's edge has become a hotly contested space.
Also today:
Jennifer Weeks

Senior Environment + Energy Editor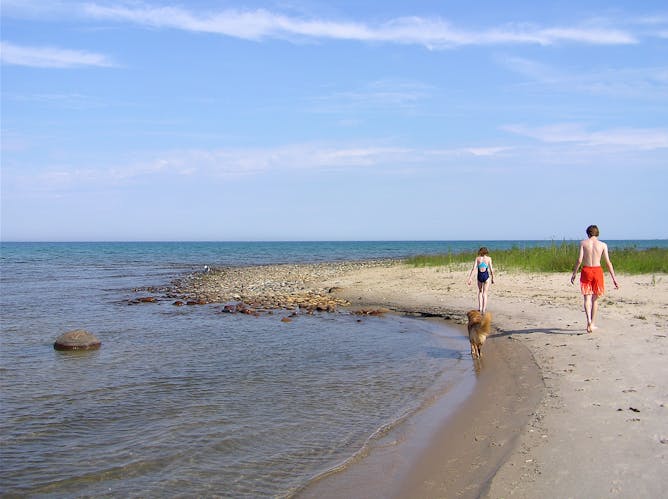 In principle, some portion of the shoreline is public land along virtually all US coasts. But these can sometimes overlap with private property interests, creating confusion and conflict.
Economy + Business
The case of Britney Spears, who is trying to end her father's conservatorship, illustrates why the legal arrangement is rife for abuse.
Arts + Culture
Health
Ethics + Religion
Environment + Energy
Catastrophic floods in north-western Europe have shown how badly early warning systems can fail.

It isn't just the effects of climate change that could destabilize the financial system, it's also fossil fuel assets losing value. The good news is that central banks can fix it.
Politics + Society
Science + Technology
Trending on site
Disaffected young evangelicals and those who left the church describe an out-of-touch institution not in line with their political beliefs, a scholar found

Research suggests that reminding Americans – Democrats and Republicans – of their family history creates empathy for immigrants and more favorable views toward immigration.

It's easy to assume that the practice has few, if any, downsides. But a new study explored some of its social repercussions.

---

Today's graphic